Pumpkin bread recipes - 3 recipes
Google Ads
Chef Tips and Tricks
How to trim and tie a roast
In this video, we show you the best way to trim and tie a roast, all by yourself! You don't need the butcher or supermarket to do it for you when it's so easy to do it at home.
Top rated Pumpkin bread recipes
Downeast Maine Pumpkin Bread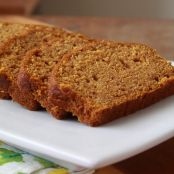 By CookiesRUs
1. Preheat oven to 350 degrees F (175 degrees C)
1 (15 ounce) can pumpkin puree
4 eggs
1 cup vegetable oil
2/3 cup water
3 cups white sugar
3 1/2 cups all purpose flour
2 tsps. baking soda
1 1/2 tsps. salt
1 tsp. ground cinamon
1 tsp. ground nutmeg
1/2 tsp. ground cloves
1/4 tsp. ground ginger
3.3

/

5

(

143

Votes)
LIBBY'S Pumpkin Cranberry Bread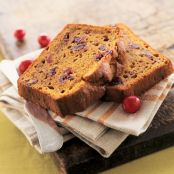 By jmssanderson12
Enjoy this irresistibly moist and flavorful LIBBY'S Pumpkin Cranberry Bread
3 cups all-purpose flour
1 tablespoon plus 2 teaspoons pumpkin pie spice
2 teaspoons baking soda
1 1/2 teaspoons salt
3 cups granulated sugar
1 can (15 ounces) LIBBY'S® 100% Pure Pumpkin
4 large eggs
1 cup vegetable oil
1/2 cup orange juice or water
1 cup sweetened dried
fresh or frozen cranberries
3.4

/

5

(

88

Votes)
Sweet Pumpkin Rolls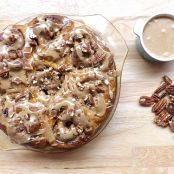 By Emma, Bake Then Eat
A sweet pumpkin roll full to bursting with sweet spices and topped with a cinnamon glaze and pecans sprinkled on to...
For the dough
60 millilitres tepid water 1/4 cup
1 scant tablespoon dried yeast
240 millilitres milk 1 cup
90 grams Unsalted butter 1/2 cup
100 grams sugar 1/2 cup
425 grams (1 15 ounce can) pumpkin puree 1 + 2/3 cup
1 1/2 teaspoons salt
680 grams Plain flour (All Purpose) 5 1/2 cups
For the filling
90 grams Unsalted butter 1/2 cup
250 grams light brown sugar 1 cup packed
2 teaspoons ground cinnamon
1/2 teaspoon ground ginger
1/2 teaspoon ground nutmeg
100 grams pecans - optional 1 cup
For the glaze
15 grams Unsalted butter 1 heaped tablespoon
40 millilitres milk 2 tablespoons + 2 teaspoons
75 grams light brown sugar 3/8 cup
1 teaspoon ground cinnamon
pinch of salt
110 grams Icing sugar (Confectioners sugar) 1 cup
4.2

/

5

(

10

Votes)