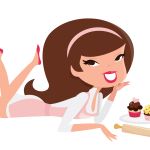 Sweet Pumpkin Rolls
By Emma
A sweet pumpkin roll full to bursting with sweet spices and topped with a cinnamon glaze and pecans sprinkled on top.
Google Ads
Rate this recipe
4.2

/

5

(

10

Votes)
Ingredients
For the dough
60 millilitres tepid water 1/4 cup
1 scant tablespoon dried yeast
240 millilitres milk 1 cup
90 grams Unsalted butter 1/2 cup
100 grams sugar 1/2 cup
425 grams (1 15 ounce can) pumpkin puree 1 + 2/3 cup
1 1/2 teaspoons salt
680 grams Plain flour (All Purpose) 5 1/2 cups
For the filling
90 grams Unsalted butter 1/2 cup
250 grams light brown sugar 1 cup packed
2 teaspoons ground cinnamon
1/2 teaspoon ground ginger
1/2 teaspoon ground nutmeg
100 grams pecans - optional 1 cup
For the glaze
15 grams Unsalted butter 1 heaped tablespoon
40 millilitres milk 2 tablespoons + 2 teaspoons
75 grams light brown sugar 3/8 cup
1 teaspoon ground cinnamon
pinch of salt
110 grams Icing sugar (Confectioners sugar) 1 cup
Details
servings 20
Level of difficulty Average
Preparation time 10mins
Cooking time 20mins
Cost Average budget

Preparation
Step 1
Directions for the dough:
Sprinkle yeast over the tepid water in a bowl and leave it to dissolve for a few minutes.

While that's dissolving warm the milk and butter in a small saucepan until the butter has melted. Add the sugar and stir until the sugar has fully dissolved, do not allow this mix to boil, just gently heat it. Once done take off the heat and leave to cool down till its just warm to the touch.

While that's cooling measure out your flour into a large bowl and add the salt and the spices.

Once your milk mixture is just warm to the touch stir in the yeast and the pumpkin and pour into the flour and spice mix.
Step 2
Mix everything together until all the flour is mixed in. You may need to get your hands in to get everything fully combined. You want your dough to be a little sticky still but not overly wet.

If you feel your dough is a little too sticky, you can combine up to another 60 grams (1/2 cup) of flour. For me sometimes I have needed the extra flour and other times I have not.

If you feel your dough is a little too sticky, you can combine up to another 60 grams (1/2 cup) of flour. For me sometimes I have needed the extra flour and other times I have not.

Once everything is combined, cover and leave the dough to rise for anything between 1 – 3 hours depending how warm your room is. You are waiting for it to double in size, once this happens beat the dough back down and either refrigerate it for the following morning or get ready to shape the rolls.

Sprinkle your worktop liberally with flour and place the dough on top. Pat it into a rough rectangle then use a rolling pin to flatten it until it is about half an inch thick. Make sure to keep that rectangle shape, longer than it is wide.
Step 3
Directions for the filling:
Melt the butter in the microwave in a medium sized bowl once melted add the sugar and spices and stir everything together.

Spread this mix over the dough, leaving an inch of uncovered dough at the top. Sprinkle half of the pecans over the dough if you are using them.

Starting with the edge closet to you roll the dough into a cylinder and pinch it closed at the top and ends.

Rub a little butter on the base of your tins – I used two 9-inch shallow pie dishes. But two 9-inch cake tins will work well also. With a sharp knife cut your dough into 1 1/2 inch rounds.
Step 4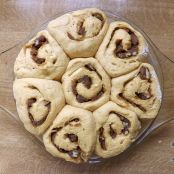 Place the rounds into you baking dish / tins leaving a little room in-between. And leave them for 30 minutes (an hour if the dough is from the fridge) for the final proving. You want them to swell and fill your dish.
Step 5
About 20 minutes before baking preheat your oven to 190C / 375F / Gas mark 5. When the proving time is up place your pans in the middle of your oven for 20 to 25 minutes. You want your rolls to be a deep rich orange colour and the tops nicely golden and the edges starting to look a little toasted. Once cooked take out of the oven and leave to cool in the dishes / tins while you make the glaze.
Step 6
Directions for the glaze:
In a small saucepan over a medium heat add the milk and butter and keep on the heat until the butter has melted. Add the brown sugar and the salt; keep on the heat until the sugar has melted. Take off the heat once done.

In a medium sized bowl mix the icing sugar and ground cinnamon and give them a quick mix. Pour in the liquid ingredients and beat until everything is well combined and no lumps remain.
Step 7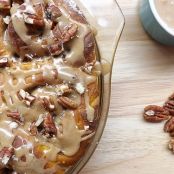 Once the rolls have been out of the oven for at least 5 minutes drizzle liberally with glaze and sprinkle the reaming pecans over the top then delve in!

​
Like these recipes? Then you'll love