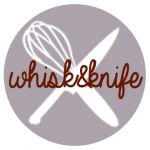 Earl Grey Macarons with Cream Cheese Frosting
Subtly floral earl grey with tangy cream cheese frosting! Without a doubt, perfect with a cup of earl grey tea.
Google Ads
Rate this recipe
3.4

/

5

(

138

Votes)
Ingredients
For the Earl Grey macaron shells (A):
53g egg white
25g granulated/ caster sugar
100g icing/superfine sugar
60g ground almonds
1 earl grey tea bag
For the cream cheese filling (B):
100g full fat cream cheese
30g butter
150g icing sugar
Details
servings 20
Level of difficulty Difficult
Preparation time 30mins
Cooking time 30mins
Cost Average budget

Preparation
Step 1
To start off making the macaron shells (A), weigh out all the ingredients of (A).
Sift the ground almonds and icing sugar together. Do this twice.
Step 2
Cut open the earl grey teabag and empty contents into the almond-icing sugar mixture and combine (If your earl grey leaves are too big, grind them with a knife first). Set aside.
Step 3
In a squeaky clean and dry bowl, beat egg whites till foamy. Add half the caster sugar and beat till soft peaks. Add the rest of the caster sugar and beat till stiff peaks (smooth, glossy Alps!)
Step 4
Using a spatula, fold in half the almond-icing sugar-earl grey mixture gently. Then add the other half.
Step 5
When the ingredients are mostly incorporated, begin macaronage. Swiftly fold and press the mixture using light strokes, check for consistency (stated above) ever so often.
Step 6
Transfer to a piping bag with a small round tip/ use a plastic bag with the corner snipped off and pipe small circles, 1.5 inches in diameter, about 1.5 inches apart. Let them dry in the open for about an hour. The surface will become like a film and you can prod it (gently) with your finger without it sticking. In the meantime, make the cream cheese filling.
Step 7
To make the cream cheese filling (B), beat the butter till light and fluffy, and add the cream cheese. Beat.
Gradually add icing sugar and beat, until it reaches a desired consistency. Don't overbeat or it'll become runny.
Step 8
Finally, bake the macaron shells in a 150-160 degrees Celsius oven at the bottom rack for 18-20 minutes. Watch the little feet develop!
Step 9
When the macaron shells are baked, let them cool before gently removing them from baking sheet. Then, fill with a teaspoon of filling and refrigerate overnight.

​

Making macarons can be difficult when you first start out but don't be discouraged! Go to our blog (http://whiskandknife.wordpress.com/2013/03/24/earl-grey-macarons-with-cream-cheese-frosting/) for a more detailed step-by-step guide to making macarons well!
Like these recipes? Then you'll love