Recipe: Pain au chocolat with Nutella, rated 3.3/5 | Gourmandize UK Ireland Gourmandize.co.uk
By Magali , blog Le blog gustatif des Papilles de Magali
Google Ads
The Gourmandize Team
Find this recipe for Pain au chocolat with Nutella, rated 3.3/5 by 39 members and passionate cooks. Discover this recipe and many more chocolate bread recipes at Gourmandize.co.uk.
Rate this recipe
3.4

/

5

(

149

Votes)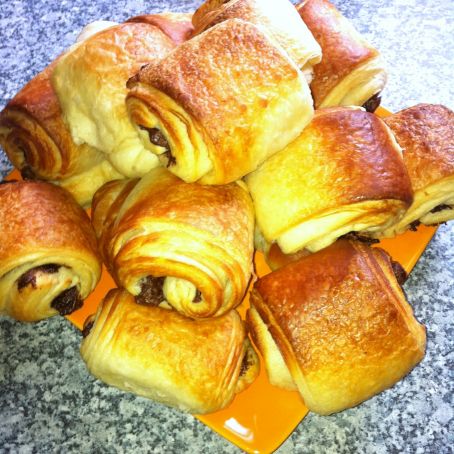 1 Picture
Details
Level of difficulty Average
Cost Budget Friendly

Preparation
Step 1
Preparing the dough: Place all the ingredients in order in food processor, knead for 5 minutes, or until the dough is no longer stuck to the sides of the mixer. Once the dough is ready, place in the fridge for 30 minutes. Take the 125g of butter and place it in cling film and roll out flat with a rolling pin (about 1 cm thick) to obtain a rectangle or square.
Step 2
Once your dough has been in the fridge for 30 minutes, take it out the fridge and place it on a floured surface. Then roll out the dough in a star shape, rolling from the middle outwards, leaving it a little thicker in the centre.
Step 3
Place the butter in the centre then fold the edges back into the middle, covering the butter. Press down well to stick the edges together.
Roll out the dough again into a rectangle, fold it in three (this is the first round!) and place the dough back in the fridge for 15 minutes.
Step 4
After 15 minutes, remove the dough, the "welded" side to the left, on the floured work surface, roll it into a rectangle, fold in 3 as before, then put back in the fridge to cool for 15 minutes. The second round is done! Now repeat this operation a third time and place again in the fridge for 15 minutes.
Step 5
After the third round and the 15 minutes rest, roll out the dough into a rectangle again, cut into 2 lengthwise and about in 10 in the other way (or less if you want bigger pain au chocolat).
Step 6
Place a spoonful of Nutella, or a piece of chocolate of your choice on each end of the dough, then roll it on itself; place on a baking tray lined with greaseproof paper, and set aside for one hour.
Step 7
Finishing:
After the hour is up, preheat the oven to 220°C.
Brush the pastry with the yolk and milk, mixed together.
Play the tray in the hot oven for 20 minutes. If you are using an electric oven with a top and bottom grill, they will only take about 10 minutes, but you will have to monitor the baking closely.

​
Like these recipes? Then you'll love