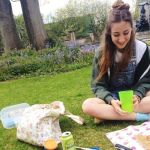 Vanilla Bean Baked Donuts
By Kate
A moist, delicious, healthy, chewy, vanilla bean baked donut recipe with raspberry icing and topped with glitter!
Google Ads
Rate this recipe
3.1

/

5

(

82

Votes)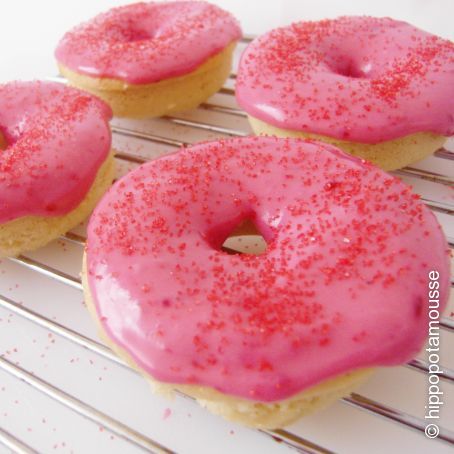 1 Picture
Ingredients
For the vanilla bean baked donuts:
95 g self-raising flour
60 g granulated sugar
1/2 tsp baking powder
15 g unsalted butter melted
1 medium free range egg
50 g plain Greek yoghurt (I used the low fat version)
20 ml milk (I used semi-skimmed)
1/2 tsp vanilla bean paste
For the raspberry icing:
5-7 (a toddlers handful) raspberries if using frozen use the larger amount
fresh the smaller amount
15 g seedless raspberry jam
15 ml milk (I used semi-skimmed)
110 g icing sugar (confectioners sugar)
EDIBLE GLITTER to decorate!!
Details
servings 4
Level of difficulty Easy
Preparation time 10mins
Cooking time 10mins
Cost Budget Friendly

Preparation
Step 1
Pre heat oven to 170 degrees C and grease your donut pan if you need to.
Step 2
You need 2 mixing bowls for this, take the smaller and to it add the self-raising flour, baking powder and granulated sugar. Mix well.
Step 3
In the other mixing bowl combine the melted butter, egg, yoghurt, milk and vanilla bean paste and mix well. I love the little black vanilla dots so much! (Vanilla bean paste is new to my kitchen, it being so expensive and me being a student, so it is perfectly acceptable to get excited about the posh black dots right??!!)
Step 4
Add the contents of the dry bowl to your best mixing bowl and mix together efficiently so as not to overwork the gluten in the flour.
Step 5
Transfer the mixture to a piping bag and pipe the donut batter into the cavities (remember 5 is the optimum, 6 if scrimping, 4 if going a little wild!).
Step 6
Bake in the middle of your oven for 9 - 11 minutes, before they even think about turning golden brown but when a cocktail stick comes out clean. You want the donuts to be a pale creamy colour. The two photos below were taken at night under poor artificial lighting, the back half of the full donut in the second photo is an accurate colour guide!
Step 7
Leave the donuts in the pan for 15 minutes before turning them out. The ones I tried to get out with a palette knife were messy when turned over, I found it best to gently turn the tops of them like you are unscrewing a juice bottle - but VERY gently - then turn them over and let the fall out on their own accord. This way produced perfectly round bottoms!
Step 8
Once the donuts are completely cool you can set about making the icing. If you are using frozen raspberries boil the kettle, pour the water over them and leave them to sit in it for a couple of minutes, if using fresh grab 'em! Add the raspberries to a cereal sized bowl (one of those proper cereal bowls, not the teeny tiny sort of cereal bowl you'd eat the suggested serving of special K in) and dollop in a table spoon of seedless raspberry jam. Mix together to form a paste
Step 9
Weigh out 110 g of icing sugar and add it to the raspberry paste about 25g at a time (just more than a quarter of what you weighed out) until you get a thick consistency that will be easy to spread but won't run wild and free down the sides of your donuts (well not too much anyway). I did actually end up using all 110 grams. Mix mix mix mix mix until very smooth and the icing sugar is well combined
Step 10
Palette knife the icing onto your donuts rather generously and sprinkle with groovy coloured sugar or something just as funky! Again if you really want to use 6 cavities you will have to be frugal with the icing, I'm telling ya 5's the magic number! :)

​
Like these recipes? Then you'll love