Chocolate buttercream recipes - 3 recipes
Google Ads
Chef Tips and Tricks
How to trim and tie a roast
In this video, we show you the best way to trim and tie a roast, all by yourself! You don't need the butcher or supermarket to do it for you when it's so easy to do it at home.
Top rated Chocolate buttercream recipes
Dobos Torte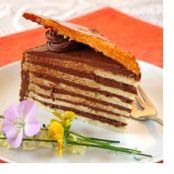 By MaryJanex
Original recipe makes 1 9-inch 6-layer cake
9 egg whites
8 egg yolks
1 cup white sugar
1/4 cup milk
1 tablespoon lemon zest
1 pinch salt
1 1/2 teaspoons vanilla extract
1 1/2 cups sifted all-purpose flour
1/2 tablespoon shortening
1 cup white sugar
1 recipe Chocolate Buttercream
3.4

/

5

(

138

Votes)
Esterhazy Torte Recipe - Hungarian Esterhazy Torta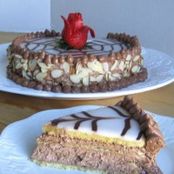 By MaryJanex
Hungarian Esterhazy torte is a rich dessert consisting of chocolate buttercream sandwiched between four layers of s...
Sponge Cake:
5 large egg yolks
1 3/4 ounces sugar
1 3/4 ounces GROUND almonds (not chopped)
2 1/2 tablespoons flour
3 large egg whites
stiffly beaten
Juice of 1/2 lemon OR 1 tablespoon vanilla
Chocolate Buttercream:
10 ounces semisweet chocolate
chopped
1 pound softened UNSALTED butter
5 large egg whites
1 cup sugar
Apricot Glaze:
1/4 cup melted apricot jam mixed with 1 tablespoon hot water
Easy Fondant Icing:
3 cups confectioners' sugar
1/4 cup water
1 tablespoon light corn syrup
Garnish
2 ounces melted semisweet chocolate mixed with 1/4 teaspoon vegetable oil
4 ounces toasted or untoasted sliced almonds
3.4

/

5

(

133

Votes)
Vanilla Sponge Cake with Chocolate Buttercream & Glacé Cherries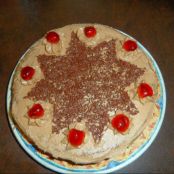 Approved by
The Chef
By Simm, Sims cake recipes
How to make a Chocolate Buttercream Icing
1 cup (227g) butter
3 cup (375g) icing sugar
2 tsp vanilla extract
1 tbsp cocoa powder (keep adding until desired colour)
4 tbsp milk
4.2

/

5

(

72

Votes)