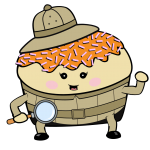 Mince Pie Cake
By kat.buckley
Google Ads
Rate this recipe
2.7

/

5

(

154

Votes)
Ingredients
For the cake:
375g butter
375g caster sugar
6 eggs
3 tbsp brandy
375g self raising flour
1 jar mincemeat (or make it yourself)
For the icing:
400g icing sugar
150g butter
3 or 4 tbsp brandy
Details
Level of difficulty Average
Cost Average budget

Preparation
Step 1
To make the three tiers of sponge I first creamed together 375g butter and 375g caster sugar.
Step 2
I then added 6 eggs and 3 tbsp brandy, and mixed in well. Then finally folded in 375g self raising flour.
Step 3
I divided the mixture into three sponge tins and baked on 180C/350F/Gas Mark 4 for about 25 minutes until golden brown.
Step 4
I left the sponge to cool and made some chocolate decorations by melting dark chocolate, putting it in a piping bag, and piping out shapes. I didn't know how I was going to decorate the cake at this point so I also made some star shapes which didn't end up on the cake. However they are an easier shape to do if you don't feel confident enough to do the Christmas trees.
Step 5
Once the sponge was cooled I started to stack it. I filled between the sponge with this luxury mincemeat, laced with port and packed with fruit. Of course you can use home made mincemeat if you have some.
Step 6
Don't spread the mincemeat all the way to the edge, leave a little gap, otherwise you run the risk of mincemeat in your buttercream.
Step 7
I made the brandy buttercream using 400g icing sugar, 150g butter and 3 or 4 tbsp brandy, depending how strong you want it, and also don't add too much as you want a fairly stiff buttercream for covering the cake with.
Step 8
I spread the buttercream over the cake, then left it to set. Then I did another layer of buttercream to completely cover the cake. I pressed the chocolate Christmas decorations into the fresh buttercream around the side of the cake.
Step 9
Then I sprinkled some bronze sugar pieces around the edge - and all over my kitchen!

​
Like these recipes? Then you'll love