Coconut curry recipes - 3 recipes
Google Ads
Chef Tips and Tricks
How to trim and tie a roast
In this video, we show you the best way to trim and tie a roast, all by yourself! You don't need the butcher or supermarket to do it for you when it's so easy to do it at home.
Top rated Coconut curry recipes
Coconut Soya ( Soya chunk with Coconut Curry)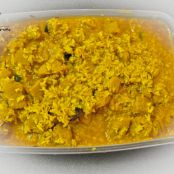 By Joydeep Pal, Joydeep's World of Food
Soya products are globally reputed among the meat free community
250gm Soya Chunks (Washed and soaked)
200gm Coconut: Freshly Grated /Desiccated
1 pc Tomato (big)
2 or 3 Green Chillies (dependent on required hotness)
1 tablespoons of Ginger Paste (optional)
3-4 tablespoons of Oil : Sunflower oil
Spices:
Cummin Whole(Jeera): 1/4 teaspoon
Cinnamon (Darchini): 1/4 of a stick
Cardamom (Elaichi): 3 small one
Clove (Labongo/laung): 3
Garam Masala: ½ teaspoon
Cumin powder (Jeera): 1/2 table-spoon
Turmeric powder (Halud/Haldi): 1 tea-spoon
Water
Salt to Taste
3.5

/

5

(

114

Votes)
Thai Chicken Coconut Curry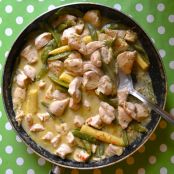 By theboycancook, The Boy Can Cook
I love Thai flavours. The smells and the spices are wonderful, and they mean when you make one at home it's a great...
For the paste:
2-4 medium chillies (depending on how hot you want your curry)
4 spring onions
2 sticks of lemongrass
Small piece of ginger (about the size of your thumb)
Juice and zest of 1 lime
2 tbsp fish sauce
Good bunch of coriander
1 tbsp brown sugar
1 tsp cumin seeds
1 clove garlic
For the curry:
800g chicken breast
diced
175g baby corn
175g sugar-snap peas (or mangetout)
Juice of 1 lime
600ml coconut milk
400ml chicken stock
4 kaffir lime leaves (optional)
3.7

/

5

(

55

Votes)
Malai Chicken (Chicken in coconut milk)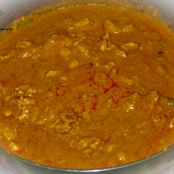 By Joydeep Pal, Joydeep's World of Food
Malai chicken is a main dish which is favourite among different parts of India
1 kg Chicken (washed and medium pcs)
200 ml Coconut Milk
3 or 4 Green Chillies
2 tablespoons of Ginger Garlic Paste
1 Tomato
4-6 tablespoons of Oil : Mustard (preferred)/Sunflower oil
Medium Size Onion: 2 nos
Spices:
Cummin Whole(Jeera): 1/4 teaspoon
Cinnamon (Darchini): 1/4 of a stick
Cardamom (Elaichi): 3 small one
Clove (Labongo/laung): 3
Black pepper powder (Golmorich) : 1/4 teaspoon
Garam Masala: ½ teaspoon
Cumin powder (Jeera): 1 table-spoon
Turmeric powder (Halud/Haldi): 1 tea-spoon
Sugar: 1 tea-spoon
Water
Salt to Taste
3.5

/

5

(

62

Votes)