Malteser Cake
By JJelley
Ah, one of the best cakes available at orienteering.
Google Ads
Rate this recipe
4

/

5

(

30

Votes)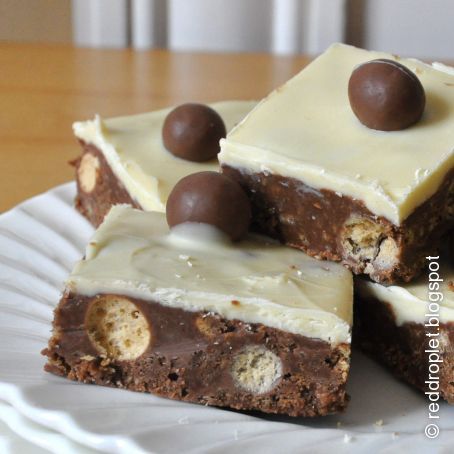 1 Picture
Ingredients
Ah! One of the best cakes available at orienteering.
-----
Main:
250g / 6oz milk chocolate (broken)
125g / 3oz butter
2 tbsp golden syrup
150g / 6oz digestive biscuits
135g bag of Maltesers
-----
Topping
250g / 10oz milk / white chocolate (broken)
25g / 1oz butter (softened)
1 tsp golden syrup
Details
servings 20
Level of difficulty Easy
Preparation time 15mins
Cooking time 120mins
Cost Average budget

Preparation
Step 1
Wow! No preheating for this one! Yippee.
Grease or line a baking tin, about 20cm / 8" long.
Step 2
Whack the chocolate, butter and syrup into a bowl and melt over a pan of hot water. Once done, remove and put to the side.
Step 3
Crush/cut the Maltesers into smaller pieces. Crush the digestives by placing them into a sandwich bag and smashing them with a rolling pin as hard as you can while angrily yelling at the people who've done you harm in life and pretending it's their head but at the same time trying not to break the work surface...
Step 4
Fold the digestives and Maltesers into the chocolate sugary goodness and pour into the prepared tin.
Step 5
Melt the topping mixture as in Step 2 and pour onto the base.
Step 6
Wrap in cling film and hide in the fridge for a few hours, do the same for the cake... Don't actually hide yourself, silly, though wrapping would make for a good photo...
Step 7
Slice and eat! Or sell... *holds back tears*

​

Sells very quickly.

-----

Why did the chicken run onto the rugby pitch?
- The referee called for fowl play!

Why couldn't the chicken find her eggs?
- She'd mislaid them!

What happened to the naughty chick?
- She was eggspelled.

Why didn't the chicken skeleton cross the road?
- She didn't have the guts!

What did the chicken do when she saw some KFC?
- She kicked the bucket!

Are these yolks too corny?
Like these recipes? Then you'll love