The Hungry Travellers
Google Ads
The Hungry Travelers


One couple's ultimate culinary food adventure; two years, 150,000kms and 45 countries.


Ambitious doesn't begin to cut it for
French culinary
tourists Sandrine and Benoit.
Whether trying their hand at a cooking course, hunting down the best urban street food or haggling with merchants at local markets, the pair is pushing food tourism to the extreme - taking two years to travel and taste the world.


After leaving their respectable jobs as an electrical engineer and IT project manager in Orléans, south-west of Paris, Benoit, 28 and Sandrine, 33 will be fanning the globe to not only find and create great dishes, but to delve deeper into just how food makes us tick.


A Culinary Tour of a Lifetime

Travelling over 730 days, nearly 150,000 kms and through 45 countries, the dining duo plans to invite themselves into strangers' kitchens at every opportunity.


"There are so many ways to eat differently," Sandrine says.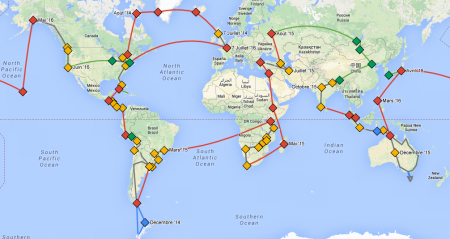 Two-year Plan: A carefully drafted map and budget, the Hungry Travellers, will try not to limit themselves, with an ethos to not to overplan.
"Eating at the table or seated on the floor, with cutlery, with chopsticks or just with your fingers. Sometimes it's a plate prepared for each person or in a large dish for everyone or even a set of small dishes to share.
"There are also many habits related to the ritual of the meal; wishing someone "bon appétit", using only the right hand to eat, toasting, saying a prayer before starting - there are so many other customs that we hope discover."
See also: 8 Weird Food Customs Around the World
Why two years of food travelling?



Meeting while on holiday in New Zealand two years ago, the avid lovers of food and travel say that committing to such a lengthy food tour just made sense.




"We love eating well and preparing dishes from good fresh produce," Sandrine says.



"Cooking is an activity that brings us together, allows us to discuss, and also to expresses our creativity.




"We are also two lovers of travel, and always thought in the corner of our minds that we'd want to do this long-term.



"We could never have done this individually, but with two it seems more feasible, especially with our common tastes and dream destinations," Benoit says.



Follow the Hungry Travellers on Twitter!
Links between food, friends and happiness?

The Hungry Travellers will be documenting thier mouth-watering food experiences on thier

blog

, while also exploring links between food, friends and happiness.

"We believe that happiness depends a lot on relationships between people, and that a less individualistic, and more collaborative society would be happier one," Benoit says.

"Cooking is, for us, a chance to exchange and share, not only the time spent eating the meal, but also the time together preparing it.



"Eating is something something nobody can avoid, so we should take advantage of this, make it into something positive. So, this way, we can bring a bit of happiness around us each day."
Dining with strangers


With unwavering positivity about their ambitious gastronomic adventure, Benoit admits they may need to be a little daring to charm the locals to sit down and share a meal with strangers.

"It will be probably difficult to explain what we are looking for and why we are doing it," he says.

"It will, without a doubt, take time to adapt, which we hope will not take long, and it will take guts, motivation and perservation.

"Using sites like Couchsurfing, that we have used a lot, meeting people and finding people to cook with will be easier.

"Over time, we also hope that word-of-mouth will work to create networks of contacts and open some kitchen doors.


Two rucksacks: With everything needed for a culinary world tour.
Want to invite Sandrine and Benoit to cook in your kitchen? Get in contact and send them an email.
More articles on the same theme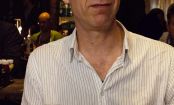 David Lebovitz Interview