The Paris Food Trip: A Culinary Weekend in Paris
Google Ads

After much deliberation, we chose five outstanding international bloggers to come to Paris to enjoy a weekend of culinary international bloggers! Ready for a weekend filled with food, fun, friends, and more food, we excitedly awaited the arrival of our five ambassadors!

Anyonita of UK Sergio of Spain Tobias of Germany Nadia of France Chiarra of Italy
Friday, June 13th
Dinner at Chez l'Ami Jean
Arriving on Friday afternoon, our excited ambassadors began their special culinary weekend in style, with a fancy meal at at Chez l'Ami Jean – near the infamous Eiffel Tower.
After welcoming our guests to the renowned French restaurant, Managing Chef, Stephane Jego and his expert team, began serving up an impressive nine course menu to the surprise, but delight, of the table.

Five mains and three desserts later, dinner was well and truly over but the Paris Food Trip trip had only just begun..
Saturday, June 14th
The Saint Quentin Market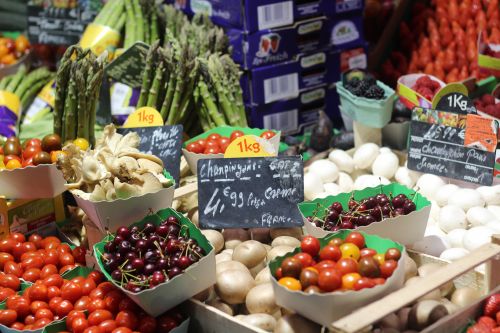 Bright and early Saturday morning, our ambassadors were let loose on the fresh produce at the city's largest covered market, Saint-Quentin Market.

This market features traditional French stalls, displaying a myriad of cheeses, fresh vegetables, meats, and fish.

Leading the way, Famed French blogger, Pascale Weeks gave the essential foodies experience through the vintage market stalls, while stopping for the occasional photo, question, or purchase.

Stopping at one cheese stall, our Paris Food Trip ambassadors tasted a wide selection of best French cheeses from Comté to Reblochon.
The 750 Grammes Atelier
Following the morning market promenade, it was off to the 750 Grammes Atelier (cooking studio) for a friendly international cook-off.

With renowned French chefs Damien Duquesne and Christophe Dovergne at hand to help, our teams were off!

Our own UK ambassador, Anyonita skillfully baked some impossibly delicious Sticky Toffere Brownies - a recipe she was amazingly testing for the first time!

With cameras in almost every hand, it teams were working tirelessly to assist thier ambassadors' creations, overcoming language barriers with laughs and jokes.

Et Voila! The final dishes: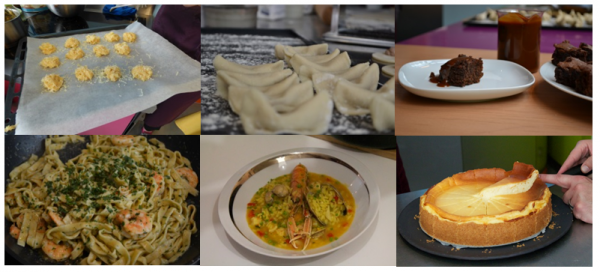 While there was no clear cook-off winner, it didn't seem to matter to those chowing down on the beautiful meals created by our guests.
Make the blogger's created recipes yourself below!
Chiarra's Prawn Pasta
Nadia's Gougières
Anyonita's Gluten Free Toffee Brownies
Tobias's Cheesecake
Sergio's Paella
Culinary Tour of Paris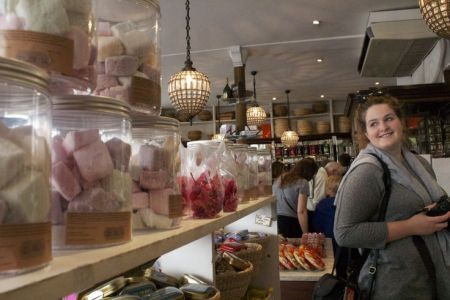 Hitting the streets of Paris, our five international guests of honour, were led by Pascale to the most gourmet Parisian hot-spots.
Among the stops was the traditional chocolate and confectionary store, A La Mère de Famille, the famous chic gallery arcades of Galerie Vivienne, and finally to Le Bon Marché, a specialty food store selling high-end goods.
After finding some special gifts, our ambassadors headed back to the hotel for some much needed R&R, before heading to dinner at the michelin-starred restaurant, Le Violon d'Ingres.
Le Violon d'Ingres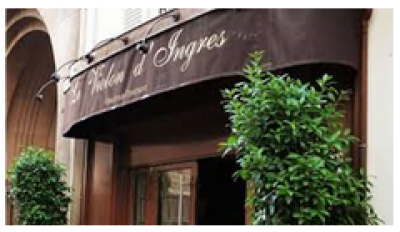 A restuarant celebrated for its classic French dining, our guests enjoyed an evening of pure elegance and well considered plates.
UK ambassdor Anyonita says her first
dining experience
at a Michelin-starred restaurant was everything she had hoped.
"Everything about Le Violon d'Ingres was refined while still being inviting," she says on her blog.

"The food was absolutely stunning and although it didn't have the comfort food chord that being around the table at Chez L'Ami Jean affords, it was equally delicious.

"Each dish seemed to make sense, each plate was an intricate world of its own, bursting with flavour and texture."
Sunday, June 15th
Sweet Dessert Sampling!

Back in the 750 Grammes Atelier, a bevvy of gourmet French sweets and pastries were ready to taste!

Following the first tasting of tangy yoghurt and strawberry macarons from Pierre Hermès, Ladurée's 'macaron of the moment' - a light lemon macaron - served as a surprise, as it was peppered with a light spice 'piment d'espelette' from the French Basque region.

Continuing the French dessert sampling, a smooth cheesecake from Michalak and a 'Paris Brest' from La Patisserie des Rêves really put the icing on the cake, so to speak.




The Gourmandize UK & Ireland team and the entire 750 International Group would like to warmly thank our participcants, organizers and sponsors for contributing to the success of the inaugural Paris Food Trip.


More articles on the same theme