Easter Chocolate Ganache Bunny, Egg and Chick Macarons
By kim_hong_lim
Google Ads
Rate this recipe
4.3

/

5

(

41

Votes)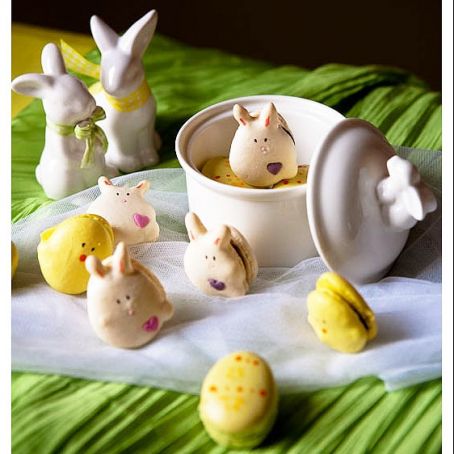 1 Picture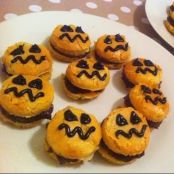 Halloween Macarons!
Ingredients
For the shells
- 2 egg whites (80g)
- 60g castor sugar
- 100g icing sugar
- 60g almond meal
For the Chocolate Ganache
-100g dark chocolate
-100g fresh cream (30% fat)
Details
servings 20
Level of difficulty Average
Preparation time 30mins
Cooking time 15mins
Cost Average budget

Preparation
Step 1
You will need 4 piping bags and, one nozzle with tiny head, 3 x 10 mm nozzles, toothpick and icing pen, some sugar decoration if you wish.
Mix almond meal and icing sugar together and blend it up in the blender. Sift then set aside.

Using electric beater, beat egg white until foamy, then add in half of the castor sugar, continue until the egg white reaches soft peak then add in the rest and beat until stiff peak.
Step 2
Fold the dry ingredient to the meringue until everything is ROUGHLY combine. Seperate the batter in to 3 seperate bowls. Keep 1 tablespoon of mixture in a tiny bowl for the decoration.

One bowl will be left uncoloured, while the other 2 will be added in green and yellow. colouring. Start folding each batter in each bowl until a smooth shiny batter is obtain. The batter should flow down smoothly and formed a ribbon when it's ready.
Step 3
Prepare your piping bag and block the tip. Fill in each piping bag. Start piping the batter in to oval shape.
Step 4
For the chick macaron I simply pipe out some batter on the side and use chopstick to dip on each sides of the piped oval to create the wings.

For the bunny I place the nozzle with tiny head over the 10 mm to pipe the ear.I then place the sugar heard and sugar pearl on the piped shell.

For the egg macaron, add in orange colouring in the one tablespoon batter that was scooped out earlier, mix well and using a tooth pick, carefully dip in the batter then over the egg to 'draw' the decoration.
Step 5
Preheat oven to 150 C while the macaron is resting. Bake for 12 minutes and let the macaron shells cool down before removing them.

Using the icing pen, draw the eyes and viola !
Step 6
To make chocolate ganache, warm cream in a pot and melt chocolate over water bath. When cream is warm, pour over the melted chocolate. Stir and mix well until a smooth and shiny ganache is obtained.

Place a cling wrap over touching the ganache, leave in fridge until set for about one hour
Step 7
Fill the macarons shell with ganache and enjoy !

​
Like these recipes? Then you'll love