Google Ads
Rate this recipe
2.9

/

5

(

119

Votes)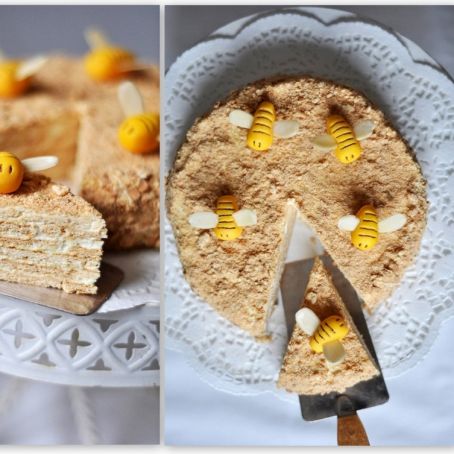 1 Picture
Ingredients
For the cake sheets:
2 eggs
3 tbsp honey
50g butter/margarine
0.5 cup of sugar
1.5 tsp baking soda
1 tbsp vinegar
2.5 cups of flour
For the filling:
900ml double cream
300g sugar
juice of half a lemon
2tsp vanilla extract
Details
servings 8
Level of difficulty Average
Preparation time 60mins
Cooking time 30mins
Cost Budget Friendly

Preparation
Step 1
Add the eggs, honey, butter and sugar to a bain-marie and stir continuously using a whisk. Make sure the mixture does not get too hot.
Step 2
You may need someone to help you stir the mixture in the bain-marie while you prepare the next ingredients. Add the baking soda to a small cup or bowl and pour in the vinegar, this should create a fizzing froth, add this to the bain-marie immediately and stir combining everything together. You can now take the bowl from the bain-marie of the heat.
Step 3
While the mixture is still warm add the flour gradually mixing everything together. As the mixture becomes more difficult to stir start using your hands to knead the dough. You may need to use less or more flour until the dough is not sticky any longer.
Step 4
Divide the dough into 5 pieces and dust your work top with flour. Using a rolling pin roll out each piece of dough to a circular shape so it is about 3mm thick. Don't worry if it doesn't turn out as a circle as you will be able to cut it in to shape when it has baked.
Step 5
Place the rolled out dough on to a baking tray lined with baking paper and place in a preheated oven at 180 degrees c. Bake each piece of rolled out dough for about 5-7 minutes or until they turn golden.
Step 6
As soon as you take the dough out of the oven, place a plate or any other circular object on the dough and cut around it to make your circle. Make sure this is done while the dough is still hot as it turns in to a large biscuit as it cools and will crumble if you try to cut it later.
Step 7
You should now have 5 large biscuit circles. All the bits of dough that have been cut off should be finely ground and put to the side as you will need them to decorate the cake.
Step 8
Now for the cream filling, pour the cream (make sure it has been refrigerated for at least an hour) into a mixing bowl, add the sugar, lemon juice and vanilla extract and whisk everything vigorously until the cream forms peaks.
Step 9
Now you are ready to make the cake. Take one biscuit circle and cover it with cream, place another one on top and repeat until you have used your last one. Cover the top and the sides of the cake with cream. Take your leftover ground biscuit and sprinkle all over the cake including the sides making sure the whole cake is covered.
Step 10
Place the cake in the refrigerator and leave over night for the cream to soak in to the biscuit. The next day you have an amazing soft and delicious honey cake.You can decorate with chocolate, piped cream or whatever you fancy!

​
Like these recipes? Then you'll love