Onion gravy recipes - 3 recipes
Google Ads
Chef Tips and Tricks
How to trim and tie a roast
In this video, we show you the best way to trim and tie a roast, all by yourself! You don't need the butcher or supermarket to do it for you when it's so easy to do it at home.
Top rated Onion gravy recipes
Sausages with Apple Parsnip Mash & Red Onion Gravy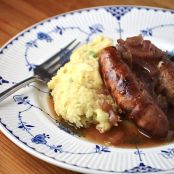 By wallflowergirl, Wallflower Girl
From WallflowerGirl
Sausages with Red Onion Gravy
6 sausages
1 red onion
chopped finely
2 tsp palm sugar (or brown sugar)
2 tsp arrowroot powder
300ml (1 + 1/4 cup) beef stock
Parsnip & Apple Mash
350g (about 6 medium) parsnips
peeled and chopped roughly
1 handful of dried apple slices
3 salad onions
chopped finely
3 tbsp natural yoghurt
Salt & pepper
to taste
3.5

/

5

(

121

Votes)
Bangers With Red Onion Gravy & Root Veg Mash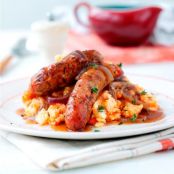 By Bisto, The Bisto website
Sprinkle 4 teaspoons of the Bisto Favourites Reduced Salt Gravy Granules into a saucepan and add 450ml (3/4...
4 heaped teaspoons Bisto Favourite
Reduced Salt Gravy Granules
1 large red onion
thinly sliced
900g (2lb) potatoes
cut into chunks
500g (1lb 2oz) bag prepared carrots and swede
8 reduced fat sausages
Salt and freshly ground black pepper
3

/

5

(

120

Votes)
Onion gravy with sausages & mash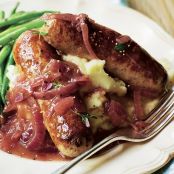 By naiey123
Slow cooking releases the natural sugars of the onions to give a fabulously rich flavour
15g butter
1 tbsp. sunflower oil
4 red onions
halved and finely sliced
200ml white wine
2 sprigs of fresh thyme
350ml chicken stock
made with 1 chicken stock cube
2 level tsp. corn flour
Sausages
mashed potato and green beans
to serve
2.8

/

5

(

100

Votes)