Recipes by loyd grossman - 3 recipes
Find a variety of recipes which require Loyd Grossman sauces with no artificial colouring. Sauces which contain just real, simple ingredients carefully selected and adding an explosion of flavours to your dishes.
Google Ads
Chef Tips and Tricks
How to trim and tie a roast
In this video, we show you the best way to trim and tie a roast, all by yourself! You don't need the butcher or supermarket to do it for you when it's so easy to do it at home.
Top rated Loyd grossman recipes
Baked stuffed courgettes with spinach, ricotta and pine nuts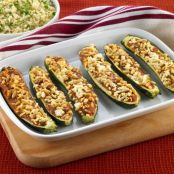 By Loyd Grossman, Visit the Loyd Grossman Website
Courgettes filled with Spinach and Ricotta Al Forno Sauce topped with feta cheese and pine nuts, baked to a crisp, ...
1 x 400g Jar Loyd Grossman Al Forno Tomato
Spinach and Ricotta Sauce
3 medium courgettes
1 tablespoon olive oil
2 heaped tablespoons of grated feta cheese
1 heaped tablespoon pine nuts
3.5

/

5

(

162

Votes)
Citrus fish bites with Thai dipping sauce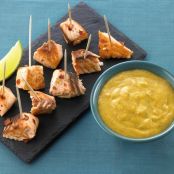 By Loyd Grossman, Visit the Loyd Grossman Website
Impress your guests with this great starter / canapé by using the Thai sauce as a dipping sauce for grilled bite s...
1/2 x 350g jar Loyd Grossman Yellow Thai Curry Sauce
1 large tuna or salmon fillet
½ lemon - juice only
1 lime – juice only
Pinch of black pepper
Pinch of chilli flakes
3.4

/

5

(

122

Votes)
Tuna Steak with Tomato, Chilli and Olive Sauce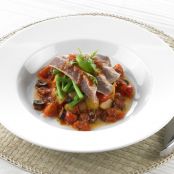 By Loyd Grossman, Visit the Loyd Grossman Website
Seared tuna steaks sliced and served on a stack of new potatoes and French beans and drizzled with a rich, spicy to...
1 jar Loyd Grossman Tomato and Chilli Sauce
1 tbsp oil
2 tuna steaks
75ml white wine
8 cherry tomatoes
2 tbsp black olives
200g cooked new potatoes
100g cooked French beans
Olive oil
Sherry vinegar
Garnish
Rocket leaves
dressed with a little olive oil and vinegar
4.2

/

5

(

15

Votes)