Agrawal.shweta.n's profile page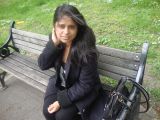 LONDON, England, United Kingdom
Shweta Agrawal
I have always been a foodie, I can talk endlessly about food. I write on MerryTummy- a collection of easy to exotic recipes. I grew up helping my mother in the kitchen which was instrumental in developing my basics and knowledge about spices. When I was getting married, I was told - 'a way to man's heart is through his stomach', And now my husband says I am the masterchef :)
> Apart from cooking, I love to see places with my partner. Yes, I love travelling and trying out different cuisines. I want to travel the whole world-the dream is on!
Blog :
Merry Tummy
Merry Tummy is all about easy to exotic recipes, from Indian to international dishes. The blog is all about my love and passion for food. I cook, click , blog and enjoy.

Follow me :
My interview :
See my interview!
Find my recipes on the following search pages :
Indian , dessert , main dish , side dish , starter , snack , quick , spicy , treat , Christmas baking competition