Shweta's interview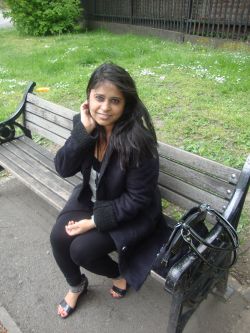 Interview by Laurence
We interviewed Shweta!
Visit the blog: Merry Tummy.
Hello Shweta, so tell us...
When did you begin your blog and what inspired you to start it?
I started my blog in March last year and it has been a great journey so far. My hubby inspired me to blog; in order for me to have a collection of my all tried and tested recipes in one place. Later when I started sharing recipes and pictures on social networking sites, I was amazed with the response. Now blogging is my world and passion. I cook, click, write and post :) Happy Dance :)
In your wildest dreams, where will your blog take you as it develops?
Oh My! I haven't thought so far. But yes I will like to publish my own recipe book. And just like all the other girls I will be happy to have lot of fans (winks).
What is your favourite dish of all time?
I love and really miss my mom's cooking. I enjoy anything that is super spicy, but if I have to name one then it will be rich dark chocolate cake. I can die for it.
Your photos are great, in your opinion what makes a dish beautiful?
I am glad you think so. To tell you a little secret, I don't even have a DSLR camera yet! But yes I do put in a lot of effort to click good pictures. I believe one eats with his/her eyes first and then mouth. Small garnishes, different colour combinations and dishes cooked with love and attention makes the whole experience beautiful.
Do you have a secret weapon in the kitchen?
Not really - nothing special but I bought a knife set from India two years back and I really love it. I wonder what I would do without those knifes- they are so perfect and my apt partners in the kitchen.
What is your earliest memory involving food?
Oh! I still remember my mom making ample and various tries and tricks to make me drink a glass of milk. I still can not have milk easily. :)
Are there any chefs that you admire in particular?
Jamie Oliver is my favourite. I like his 30 minute cookery show a lot. I also like Nigella Lawson mainly because of her bakes. If you talk about Indian chefs I like Sanjeev Kapoor and Rakesh Sethi.
If you could be a contestant or guest on any cooking show what show would you choose?
I wish to participate in Masterchef. But to tell you the truth, I am not prepared for such a huge event as of now and on top of that, I am a vegetarian thus I don't think I will be able to run on the show for very long as most of the tasks involve the use of meat and sea food. :(
Which Gourmandize recipe would you recommend? (if none take your fancy add your own and share it with us!)
Well the site is loaded with lip smacking recipes, but if I have to recommend then I will purpose my own. Italian Style Couscous Cakes they are so easy and tasty.
Any last words or message for our readers?
Blog the way you like. Cook with love and yes do visit my space
www.merrytummy.blogspot.com
:)
Connect me on Facebook
Twitter
Pinterest
Thank you Shweta for answering our questions and see you soon!
Published by Laurence - 29/08/2013

If you are a blogger, a chef, working in the food industry or have a website about food and cooking, and you would like to share with our community, please contact us!
We would be happy to feature you on our site.