KEITH's interview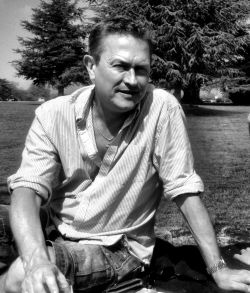 Interview by Laurence
We interviewed KEITH!
Visit the blog: FROM ALFREDO'S WITH LOVE....
" When I come home from work - to escape into the kitchen is like finding the real me again. "
Hello KEITH, so tell us...
When and how did you decide to start your blog?
A lot of my friends have been asking me for a while to create a blog of my recipes and thoughts on food. I eventually got round to it in March this year. Glad I did. It is a great outlet for my views as well as my recipes.
If you could go back in time, what is the one piece of advice you would give your younger self as they started out on your blog?
I guess to do a little more research into how other bloggers write. There is such a mix of styles out there. It took me a while to get the right look for the blog. I think I would also reserach a little more the tech side of things! I am still learning!
Your photos are fantastic, in your opinion what makes a dish beautiful?
Making it look like someone cares what it looks like. When I put items on a plate I have in the back of my mind that it is like arranging items on a canvas - like a painting.How the colours match, how the shapes compliment each other. Getting the lighting right so that the dish looks fresh and appetising. I love eating food...but I also love looking at it!
What is your earliest memory involving food?
Probably Farley rusks to eat as a young child! Baking with my mother. Licking the spoon after making a cake with her. And as I got older always being amazed that she never seemed to measure anything out - it was all from instinct and taste. Also I realised at an early age that eating was social - it mattered to our family that we all ate together - no tv on. The table was, and is still, the centre of my universe.
What is your favorite type of cuisine?
I adore Italian and Spanish cuisine. I like rustic cooking - peasant food - social food.
Are there any chefs that you admire in particular?
Nigel Slater is inspirational. His recipes are fabulous but his writing is sheer poetry. I try to write with the same verve. I also like Ruth Rogers and the late Rose Gray of River Café. The late Keith Floyd was also a great inspiration to me when I began cooking.
If you could be a contestant or guest on any cooking show what show would you choose?
I do not like the idea of cookery competitions on tv. I don't think cooking should be judged that way. I can see why others like it, but I wouldn't put myself under pressure like that. If I was a guest on a show it would be to appear and cook with Nigel Slater - that would be a dream come true.
Do you have a secret weapon in the kitchen?
Music!
What Gourmandize recipe would you recommend? (if none take your fancy add your own!)
That's a tough one. Many lovely ones - but guess I would go for one of mine! My Cordero al Chilindron is a meal I adore making, and the flavours hit the spot every time. A great one to gather friends around too!
Do you have anything else that you'd like to tell our readers about?
Cooking and writing about food are my great passions in life. When I come home from work - to escape into the kitchen is like finding the real me again. I love shopping for food, cooking it, writing and talking about it..and of course...eating it!
Thank you KEITH for answering our questions and see you soon!
Published by Laurence - 09/07/2013

If you are a blogger, a chef, working in the food industry or have a website about food and cooking, and you would like to share with our community, please contact us!
We would be happy to feature you on our site.