All About Mangosteen
Google Ads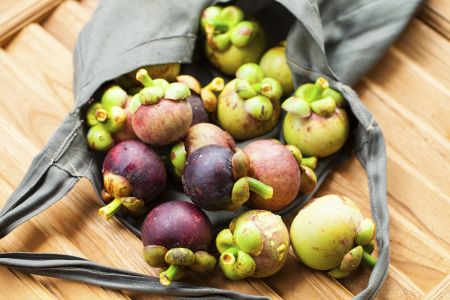 This exotic tropical fruit originated in Indonesia, and is now grown mainly in Southeast Asia and portions South America. The mangosteen's flavour is difficult to describe, making it challenging to replace when called for in recipes. Lychees are referred to as being similar in flavour, but if a recipes calls for mangosteen, strawberries or mangos are recommended as a substitute.
Mangosteen has increased in popularity recently because of its health benefits. High in antioxidants, fiber and folic acid, the exotic fruit is said to help support proper digestion and nervous system function.
Season
Mangosteen is a native to Thailand and South East Asia, it is only usually available between the months of March and November. Outside of these months it is difficult to find it fresh in Thailand, let alone the UK. However, you may find it in cans in any Asian supermarket.

How to pick it
Look for them in Asian supermarkets, choose your fruit with an dark purple outer layer. If leaves or stems are still intact they should be red or green in colour. If the leaves are brown the fruit is most likely too ripe.
How to store it
Fresh mangosteen will keep for about a month in your fridge.
How to prepare it
The dark outer coating if the fruit is inedible. Cut through the outer layer of coating with a bread knife, taking care not to cut through the fruit inside. Once you have cut through the outer layer, twist in opposing directions to see if the outer layer is easily removed. If the shell doesn't budge you may have to cut a little deeper. Once the exterior has been cut all the way around, peel the exterior off exposing the white fruit in the center. The inner seeds are soft and edible, don't worry about not having removed them.
Mangosteen fruit can be used in a variety of culinary ways, use it in jams, fruit salad, or smoothies.
More articles on the same theme