All About Veal
Google Ads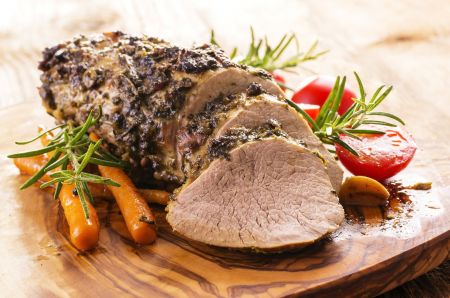 Get Veal, and Veal with it.
Veal:

Sure, it's a little more pricey per pound than beef but it is full of flavour, contains less calories than lean beef and is a valuable source of nutrients.

Veal comes from calves aged between a few weeks to a few months old. Veal can be classed under three categories: veal raised by its mother, milk-fed veal and grass-fed veal.

Quality veal: must be white or light pink, firm and slightly covered with white fat. Veal raised on its mother's milk produces a white, tender and tasty meat.

Milk-fed veal: fed with whole milk or with a mixture of powdered milk, cereal and dietary supplements, their meat is a little less clear and less flavoursome.

Grass-fed older calves: the meat has a stronger flesh and is more colorful.



In Season:

Veal is available all-year round in the UK & Northern Island.


How to Pick it:

Pieces of veal are classified into three categories depending on their location on the animal and are broken down below to help guide you at the supermarket or your local butcher.


First category

Pieces of round or rump are located at the back end of the cow. These tender cuts are best cooked quickly; sautéed, grilled or roasted. Tenderloin cuts, sirloin, short loin and silverside.
Second category

These meat cuts are found in the shoulders, chest and flank and are moderately tender, so they need to be cooked longer and can be fried, poached, braised, and used in stews.
Third category

Are found at the front end of the cow, such as the neck, legs and chest. It is necessary to cook these cuts slowly over a longer period (usually several hours) to soften; poach, braise and stew.

How to Cook it:

How to cook your veal cut can depend largely from where on the animal it has come from. Below is a short guide on cooking specification for veal cuts.
| | |
| --- | --- |
| Breast: | Juicy and rich, veal breast is best placed on the slow cooker. |
| Leg: | Leg cuts are great oven cooked and sliced and served with a few vegetables. |
| Loin: | Stew, slow roast or cook on a low heat over time the loin cut is a tasty treat any which way it's cooked. |
| Ribs: | Ribs are best grilled, sautéed or pan-fried. |
| Shanks: | Braising shanks is the best way to conserve the flavour of this beef cut. |

How to Store it:

Keeping veal cold is vital to avoid the growth of harmful bacteria.

Refridgerage veal at the bottom of the fridge and keep store-bought meat for no longer than 5 days.

Though stew meat and ground veal should be kept no longer than 2 days.

Freezing your veal is a safe option also and can be kept up to 6 months, again shorter for stew and ground veal which should be kept no longer than 4 months.

Always keep an eye out on the expiry date and keep away from other raw produce.


We like it with:

Try this unique take on veal:

'Veal Sweetbreads and Pickled Aubergine, Tomato Chutney and Sweet and Sour Parsley'.
More articles on the same theme