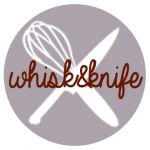 Fresh Pasta
Get fresh pasta right every single time with this ratio recipe!
Google Ads
Rate this recipe
3.4

/

5

(

129

Votes)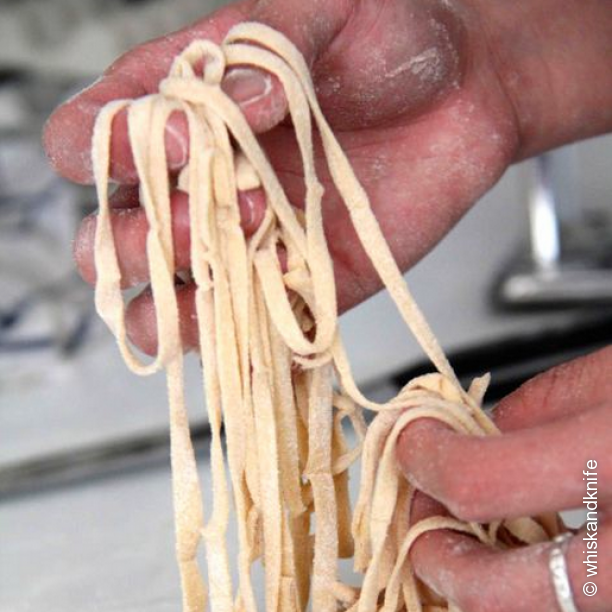 1 Picture
Ingredients
Plain flour
1 medium-large egg per serving
A weighing scale
A pasta machine
or a rolling pin
LOTS of extra flour for flouring everything liberally
Details
Level of difficulty Easy
Preparation time 30mins
Cooking time 3mins
Cost Budget Friendly

Preparation
Step 1
Put a bowl on your weighing scale and depending on the number servings you plan on making, crack in one egg per serving. Weigh the cracked egg(s) and to that add in 1.5 times the weight of plain flour to the bowl. (This clever way of measuring out the egg to flour ratio is from Michael Ruhlman – a way that sure to get the consistency right every time, since eggs are always in different sizes.) Then, using a fork, combine everything together as best as you can.
Step 2
When the mass becomes stiff and clumpy, and your fork feels like it's about to break from wrestling with the dough, abandon it and dive in with your hands!
Step 3
Then, tip the mixture out onto a clean countertop and knead till all the flour and egg is completely combined- no white lumps or yellow streaks. The dough at this point is stiff, so there's no alarm if it's not as malleable as bread dough. Form it into a ball and wrap it up in cling. Then, squash it into a disk before placing it in the fridge to rest.
Step 4
After 20 minutes, take the dough out! it's time to roll it roll it roll it. There are two ways to roll it 1) Traditionally, using a rolling pin and lots of flour (and loads of elbow grease) 2) Pasta machine. Plus flour.
Step 5
Divide the chilled dough into half (this is because you want to work with a manageable amount of dough at any one time) and tuck the unused half under a damp towel to prevent it from drying out.
Step 6
(Because the pasta machine's the bomb, we kinda just went the easy way and used that.)
Using the biggest setting on the pasta machine, roll the dough through.
Then fold into half, and roll through again.
Repeat this folding and rolling process until the dough is smooth. The dough will be pliable, and noodle-like.
Flour the dough, machine, table, (your) hands, liberally while working.
Step 7
Run the dough through the machine, making the settings smaller with each roll (for example, if the machine's setting is at 8, roll the dough through, then turn it to 7. Roll through again, turn to 6, and so on). If the dough gets too long, cut it into half and roll each half separately.
Step 8
When the dough gets to the desired thickness (1-3mm, personal preference, but if you're making lasagne sheets or ravioli, the pasta should be on the thicker side), run it through the cutting attachment on the pasta machine. But K likes to hand-cut the pasta (in the name of rustic unevenness) so we go by that! To hand cut a sheet of pasta, flour the sheet, table, knife, liberally. Fold the pasta sheet in a zig-zag style like that an accordion. Then, slice away!
Step 9
Shake off any loose flour from your newly formed strands of pasta and cover them with a wet cloth until you're ready to cook.
Step 10
To cook, simply bring a pot of salted water to a rapid boil. Turn the heat down to a rolling simmer, and gently lower in the pasta, making sure to separate the strands. Fresh pasta cooks in a matter of seconds, so keep an eye on the pot- I have a profound fear of overcooked noodles/pasta/vegetables, so I usually watch the pot like a hawk (this fear comes in handy). When the strands float to the surface, turn off the heat, allow it to stand for a couple for seconds and drain. Toss with your favourite sauce, or simply, with butter, garlic and olive oil!

​

Resting doughs (when called for) is so very important. This is because, when the dough rests, it relaxes, the liquid content in the dough gets a chance to even out consistently, and magical things happen. Magical things that would make your dough yummy. An unrested dough (In my impatience, I used to cheat quite a bit) is crumbly and difficult to work with, so do give it that extra TLC by letting it chill in the fridge. You can chill too!
Like these recipes? Then you'll love
Chef Tips and Tricks
How to trim and tie a roast
In this video, we show you the best way to trim and tie a roast, all by yourself! You don't need the butcher or supermarket to do it for you when it's so easy to do it at home.