Verrine recipes - 3 recipes
Google Ads
Chef Tips and Tricks
How to trim and tie a roast
In this video, we show you the best way to trim and tie a roast, all by yourself! You don't need the butcher or supermarket to do it for you when it's so easy to do it at home.
Top rated Verrine recipes
Gingerbread, pear and foie gras verrines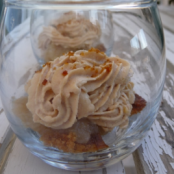 By Perrin du blog Chez la ch'tite Payette
Prepare the stewed pears. In a saucepan cook the pears with sugar, water and raisins
2 slices of gingerbread
1/2 block of foie gras
1 tbsp mascarponne
2 tbsp full of single cream
3 small pears
peeled
cored and diced
1 large pinch of brown sugar
1 small handful of raisins
some water
4.1

/

5

(

113

Votes)
Pesto and salmon verrines with goat cheese and grapefruit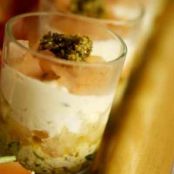 By Charline , blog : A flavor capture
For the pesto with basil: It's simple, mix together the "solid" ingredients and then add olive oil to obtain the eq...
1st layer:
30g fresh goat cheese
30g crème fraîche (half fat)
homemade basil pesto
Chopped rocket salad and lamb's lettuce
2nd layer:
Slices of peeled grapefruit
3rd layer:
30g fresh goat cheese
30g crème fraîche (half fat)
70g Tomme goat cheese
cut into small pieces
thyme
dash of olive oil
4th layer:
50 g of Scottish smoked salmon
sliced into thin strips
previously marinated in grapefruit juice
5th layer:
1 teaspoon basil pesto
For the pesto:
2 bunches of basil (keep only the leaves)
4 tablespoons (60g) grated Parmesan cheese
50 g of roasted pine nuts
2 cloves of garlic
crushed
10 cl of olive oil
salt
pepper (5 bay mix if you have)
4.3

/

5

(

39

Votes)
Tiramisu with Red Gooseberries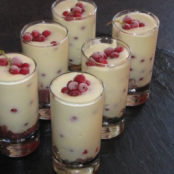 By Mamzelle Eva , blog Pour ceux qui aiment cuisiner
In a bowl beat the egg yolks with the sugar
Ingredients: (for 6 glasses)
  180 g mascarpone
  2 medium eggs (or 3 small)
  60 g of caster sugar
  150g gooseberries
  6 sponge fingers
Gooseberry syrup:
  50 g gooesberries
  30 g caster sugar
3.4

/

5

(

94

Votes)