Salted Caramel Apple Cupcakes
Salted Caramel Apple Cupcakes

A light cinnamon spiced apple sponge with decadent salted caramel frosting and fudge decorations...
Google Ads
Rate this recipe
3.8

/

5

(

90

Votes)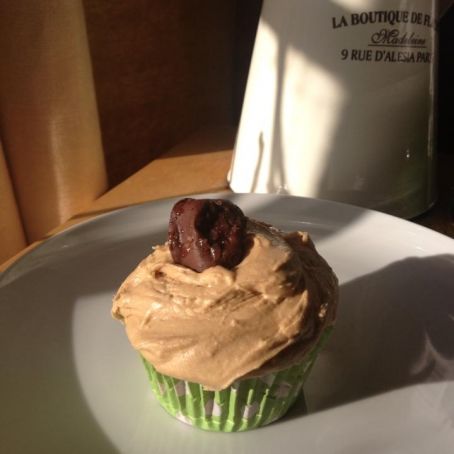 1 Picture
Ingredients
Ingedients:
Cupcake:
190g plain flour
75g white caster sugar
145g light brown sugar
1/4 teaspoon baking powder
1 teaspoon bicarbonate of soda
1/2 teaspoon Malden sea salt (ground in pestle and mortar)
1/2 teaspoon ground nutmeg
1/2 teaspoon ground ginger
1 1/2 teaspoon cinnamon
2 eggs
110g un-salted butter melted
80 ml semi skimmed milk
1 tablespoon vanilla extract
1 large granny smith apple
peeled and chopped into 1/2 cm chunks
Frosting:
110g salted butter
1/2 teaspoon Malden sea salt (ground in pestle and mortar)
240g dark brown soft sugar
80ml double cream
375g icing sugar
60ml whole milk
Salted fudge decorations:
25g un-salted butter
120g dark chocolate
150g all butter fudge pieces (each piece chopped in half)
Malden sea salt for sprinkling.
Details
servings 16
Level of difficulty Average
Preparation time 45mins
Cooking time 20mins
Cost Average budget

Preparation
Step 1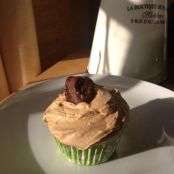 Method

Salted Fudge Decorations:
1. Cut each piece of fudge in half.
2. In a bain-marie melt the chocolate and the butter, watching carefully until smooth and glossy.
3. Put a piece of baking parchment on a plate or tin.
4. Using two teaspoons dunk each piece of fudge into the chocolate mixture until well covered and smooth.
5. Add to the baking parchment stopping every few pieces to sprinkle salt whilst the chocolate is still wet.
6. Once complete put in the fridge and by the time you finish the rest of the recipe they will be hard.

Cupcakes:
1. Preheat oven to 170C
2. Add the cinnamon and chopped apple to a bowl and mix, set aside.
3. Sift all the dry ingredients into a large mixing bowl. (Flour, Sugar, Baking Powder, Bicarb Soda, Remaining Spices, Salt)
4. In a separate bowl whisk all the wet ingredients. (Eggs, Butter, Milk, Vanilla)
5. Add the wet mix slowly into the dry bowl using a plastic spatula. Once just incorporated give a short 10 second whisk to ensure fully incorporated. Do not over mix!
6. Add 12 cupcake cases to a cupcake tin and spoon in batter to each one, evenly distributing until they are all 2/3 full.
7. Bake for 23-25 mins in preheated oven or until skewer comes out clean and sponge springs back.
8. Leave to cool in the tin for 10 minutes and then transfer to a wire rack to cool completely before icing.

Frosting:
1. In a small saucepan (heavy bottomed if possible but not essential) melt the butter on a medium heat.
2. Add the cream and sugar and mix on a medium-high heat, stirring constantly until sugar is dissolved and mixture begins to bubble.
3. Add the salt and stir constantly whilst mixture bubbles for 3 full minutes, no more. (Use a timer!)
4. After 3 minutes turn the heat off and stir for another minute. Then leave to cool to room temperature. (30-45 minutes)
5. Add 300g of the icing sugar and half the milk, beat with an electric mixer for 5 minutes. The longer you mix the lighter and fluffier the frosting will become. Add the rest of the icing sugar and milk as desired to reach correct consistency. (Should be thick and not fall off a spoon and a light caramel colour.)
6. Ice the cupcakes and decorate with salted fudge.

​
Like these recipes? Then you'll love