Fruitsnveg's profile page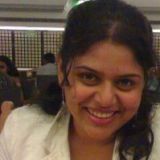 Manjiri Kulkarni
Blog :
Sliceoffme
I mainly write about Food and love experimenting in my tiny urban home kitchen. Some of the recipes are original and rest I like to adapt recipes from various cuisines. I also do travel writing and love sharing lots of pictures!
My latest interest is to meet interesting young entrepreneurs and write about how they started their business, it fulfills my desire to meet new people and draw inspiration from how they stuck to their gut feeling and went ahead and made their dreams a reality.
I also write about my observations, musings about all 3 favourite cities Mumbai, Pune and London.
City of birth Bombay -Mumbai to some:) – the smell of the sea and the feel of the breeze from Bombay the buzzing island is what I carry in my heart ,Pune City- Historically rich , home to many forts, urban some and rustic some this haphazard young city slowly but surely grows on you ,it did on me for sure. London – city where I am currently , I am a lover of the old buildings, a museum junkie and love to explore the myriad things this cultural melting pot has to offer the wanderer inside my head :)

Follow me :
My interview :
See my interview!
Find my recipes on the following search pages :
apple , lamb , apple sauce , spicy lamb , blanched almonds , summer , dessert , vanilla ice cream , summer dessert