All About Lobster
Google Ads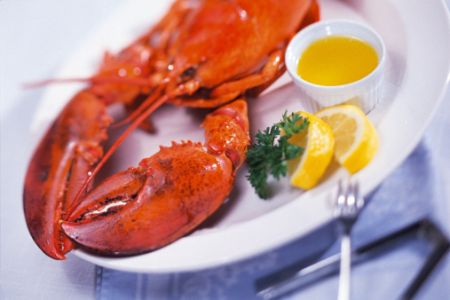 Mother always said I'd land myself in hot water...



Lobster:

It's summertime, which means lobster prices are thankfully dropping and many more of us are now enjoying these delicious marine crustaceans.

Lobsters are a highly prized type of seafood and can be steamed, grilled or broiled. Usually, the colder the waters where the lobster was fished, the better the taste. European lobsters, fished from around England, Scotland and Ireland, are considered to have the best flavour.


In Season:

Lobster is available all-year round in the UK but is best in season between April and October.


How to Pick it

If you're in the market for a cooked lobster, a nice bright (usually red) shell and with its tail curled under the body is the sign of a healthy specimen.

When selecting a lobster, its colour does not reflect its flavour or texture; but do look out for black marks or holes, which usually indicate that the lobster is older. Before it is cooked, lobster has a darker colour, and can range from shades of red, purple, blue and green.

Of course, a live lobster would be freshest, but a freshly cooked lobsters, cleaned and split from the supermarlet is by far the most convenient option. Follow your nose when it comes to lobsters, the fresher the smell, the better.


How to Cook it

Store bought lobster that has been cleaned and split in half can be grilled for 10 minutes, seasoned and ready-to-eat in no time.
Live lobster, are a whole other kettle of, well lobsters.

The humane way to kill lobsters is not by boiling them live in hot water.
Simply place it in the freezer for a few hours, until it is unconscious. When it is no longer moving, take a sharp, heavy knife and skewer the centre of the cross on its head.

Then place into into a large pot of boiling water for about 30 minutes or until its shell has reacha deep (red) colour.

The best way to serve a cooked lobster is break it into sections, firstly be declawing it, cracking the lobster shell and removing the soft flesh.

Cut away the legs from the body and remove any excess flesh. Next cut the lobster in half completely.
Take out the inedibile sections of the lobster including; intestines gills and stomach.

Tip: Lobster shells can be used to make stock.


How to Store it

Keep store-bought lobsters in its packaging in the fridge for up to several hours, or up to 36 hours outside of the fridge. Live lobster should never be put on ice or kept in fresh water.

If you have bought a live lobster, keep it inside damp newspaper or a tea towel and keep it in the fridge.


We like it with:
Brown Butter Lobster Roll
More articles on the same theme