All About Oysters
Google Ads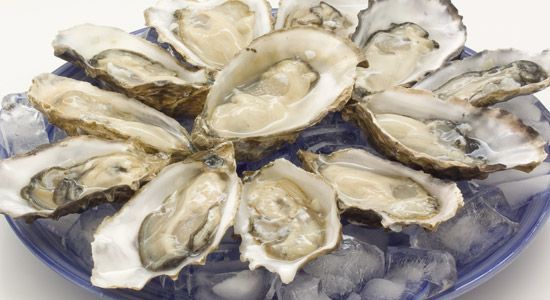 Did you hear that Oyster Joke? I laughed so hard I pulled a mussel.

Found in marine habitats, inside two grey conjoined shells is this decadent and uniquely flavoured mollusc, known as an Oyster. The oyster has been an edible luxury since the earliest of times, served both raw and cooked. Nowadays, oysters are cultivated in farms due to dangers such as over-pollution and overfishing. The oyster growing process takes three to four years and requires diligent supervision.
How to Pick Oysters
Traditionally, oysters were only harvested in months that contained the letter 'r', ( from April through to September.) However, due to improvements in both transportation and harvesting methods, oysters can now be safely consumed year-round.
Oysters may only be purchased as live produce. Their shells should be closed, or close to, with only a gentle tapping. They should be heavy in weight and contain water. To verify if your oyster is living, prick the cilia (tiny hairlike moss on the gills) and see if it instantly retracts.
How to Store Oysters
Oysters should be placed in the refrigerator and out of water. If the oyster is in freshwater, it will open, and die. Oysters must be eaten and cooked alive.
How to Cook Oysters
When cooked, oysters can be served in both hot and cold dishes. They can be poached and chilled, cooked on skewers, made into fritters, soups or used to garnish other fish recipes.
We Like it With:
More articles on the same theme