Anne's interview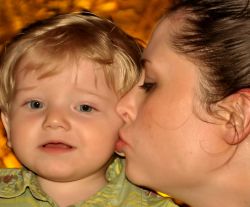 Interview by Laurence
We interviewed Anne!
Visit the blog: The Gingerbread Mum.
Discover Anne's favourite recipe: How to make pefect American pancakes
" Even the best chefs make mistakes in the kitchen. Have fun and be bold with your cooking experiments. "
Hello Anne, so tell us...
When and how did you decide to start your blog?
I've always loved feeding people. For me it's a great way to care for others and I've been cooking for others since I was a child. I was really excited when my baby Nicholas was getting close to starting experiencing the wonderful world of food, but it was also scary. His whole future relationship with food was in my hands! As I started cooking for him, I had lists all over the place of dishes he liked, those he turned his nose up to and many more I wanted to try. I decided it would be a good idea to keep all those recipes and my experiments in one place - a blog. So just over a year ago I started The Gingerbread Mum.
If you could go back in time, what is the one piece of advice you would give your younger self as they started out on your blog?
One or two good photos of the finished recipe is enough. Don't worry about taking lots of photos of the different processes and steps; babies and toddlers don't have much patience when they're hungry!
Your photos are fantastic, in your opinion what makes a dish beautiful?
I want to learn how to take better food photographs as often mine are very quick snaps, but a dish definitely has to be visually appealing, and for both children and adults, vibrant fresh colours add to a dish's beauty.
What is your earliest memory involving food?
I got my first cookbook when I was about 8 years old and the recipe I loved making the most from it was scrambled eggs. And scrambled eggs on toast is still my favourite quick comfort food.
What is your favorite type of cuisine?
This is a really difficult question! I love so many different cuisines. I lived in Italy for five years (only leaving because my husband-to-be moved to the UK) and experiencing real Italian food (not what I had previously thought of as Italian food) was eye-opening. I love Italian cuisine for its simplicity and the respect it gives to individual ingredients, and there's nothing better than sitting on the beach and biting into an oozing ball of the freshest buffalo mozzarella. But, being married to a Sardinian, Italian cuisine is very much a part of our everyday life. Going out to eat, my first preference is always French food. I love rich food and it's always better other people cook French dishes for you so you don't know exactly how much butter is in there!
Are there any chefs that you admire in particular?
Rick Stein for his love of simplicity, Nigella Lawson for her exuberant love of food and Heston Blumenthal's completely unrestrained creativity.
If you could be a contestant or guest on any cooking show what show would you choose?
My favourite cooking show without a doubt is Junior MasterChef Australia - kids whipping up soufflés, tempering
chocolate
, writing cookbooks and completing challenges adults would struggle with. I watch every episode with my jaw gaping.
What Gourmandize recipe would you recommend? (if none take your fancy add your own!)
I love cooking up brunch for family and friends on lazy Sundays, and these fluffy American pancakes are wonderful with so many different topping combinations.
http://www.gourmandize.co.uk/recipe-46561-how-to-make-pefect-american-pancakes.htm
Do you have anything else that you'd like to tell our readers about?
Even the best chefs make mistakes in the kitchen. Have fun and be bold with your cooking experiments.
Thank you Anne for answering our questions and see you soon!
Published by Laurence - 11/07/2013

If you are a blogger, a chef, working in the food industry or have a website about food and cooking, and you would like to share with our community, please contact us!
We would be happy to feature you on our site.