Food and Frets's interview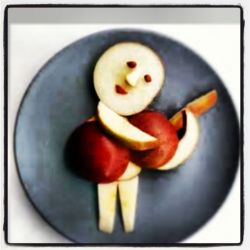 Interview by Laurence
Visit the blog: Food and Frets.
Discover Food and Frets's favourite recipe: Lamb and Date Tagine
Hello Food and Frets, so tell us...
When did you begin your blog and what inspired you to start it?
I'm a new blogger, just started in July. I've been really surprised and encouraged with the feedback i've had from fellow bloggers at such an early stage. I was inspired to start blogging by a friend of mine who's been blogging for a few years now. He asked me to write a guest post for him and I really enjoyed it so decided to start my own. I don't think I realised how many hours it would eat up but i'm loving it! So big thanks to Kev at
Roast Pork with Crackling
for getting me started!
In your wildest dreams where would you like your blog to take you over the next few years?
In my wildest dreams I would love to publish a book of my recipes. In reality, I will probably just keep blogging as often as I can manage with 2 kids and my day job as a teacher. It doesn't leave much time in the day! I would also like to do a series of restaurant reviews with a bit more substance than the usual "you've got to try this place" style reviews that seem to litter the local press! However, that would involve actually finding the time to eat out!
What is your favourite dish of all time?
My favourite dishes always seem to be linked to happy memories and it makes me wonder how much it was the food or the circumstance!
Paella
in Barcelona with my wife (then girlfriend!) is a special memory. Lamb Tagine in Marrakech, Mezze in Dubai on our honeymoon, and not forgetting my Mam's Christmas Dinner and Trifle!
Your photos are great, in your opinion what makes a dish beautiful?
I wish my photos were great! It's something I need to work on but I'm getting better, I think! I just use my phone for photos so it can be limiting. There are so many factors which make a dish beautiful; variety of colour is vital but then so is maintaining the integrity of the dish. I run a mile from a cook who puts ingredients in a dish just for appearance; I hope I never see a Strawberry Salad again, or a plate with Paprika dusted around the edge!
Do you have a secret weapon in the kitchen?
I wouldn't say I had a secret weapon; I just rely on quality ingredients really. Good oil and good salt is a great starting point. I always boil the kettle before I start and fill the sink with hot, soapy water; it just makes life easier! Invest in a good mixer, I use a Kenwood Chef which is hundreds of pounds cheaper than a Kitchen Aid and just as effective (if not as good looking!).
What is your earliest memory involving food?
Stirring the Christmas Cake mixture with my Mam and making a wish! I still try to make it there to have a stir and then enjoy the aroma as it bakes. It's so comforting! Oh, and stirring my lemonade with a sausage in a restaurant in France! (apologies to my parents!)
Are there any chefs that you admire in particular?
I really enjoy Rick Stein's programmes because his love of food shines through and they are filmed in such an honest way (not in a studio masquerading as somebody's house!). He comes across as just somebody who loves to travel and eat, everybody can relate to that! He's a good thief as well, pinching all of the best ideas from around the world. Like songwriters, the best recipe writers are the best thieves!
Other favourites include Atul Kochhar who is a master of spice, and Florence Knight who cooks with such simplicity.
If you could be a contestant or guest on any cooking show what show would you choose?
I'd probably be a contestant on Masterchef Australia because the contestants get so much training! They have a series of Masterclasses with top chefs and it seems a much more comprehensive test than our version. The trip to Australia would be an added bonus!
Which Gourmandize recipe would you recommend? (if none take your fancy add your own and share it with us!)
This is a recipe based on one of my favourite food memories in Marrakech as I mentioned earlier, my
Lamb and Date Tagine
. It's so simple, comforting and delicious. I urge you to give it a try!
Any last words or message for our readers?
Just to cook with confidence and be as relaxed in the kitchen as you can (I find a beer helps!). It doesn't matter if you make a mistake, it's only food!
Thank you Food and Frets for answering our questions and see you soon!
Published by Laurence - 03/09/2013

If you are a blogger, a chef, working in the food industry or have a website about food and cooking, and you would like to share with our community, please contact us!
We would be happy to feature you on our site.