Doris Maria Diamond's profile page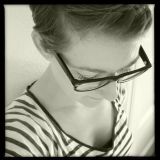 Doris de Meijere
Blog :
RAW DIAMOND
Raw Diamond connects some of my personal interests. Be it my love for cooking, baking, design, travelling, photography and vegan food and products. To share it with other food lovers.
The name RAW DIAMOND stands for the strength and the clear structures of a diamond, as well as the beauty, which opens up to the beholder only at a second glance or through carving out.
Of course there is nothing more subjective than the definition of good taste. Therefore I am not trying to please everyone, but if I manage to inspire, make someone smile or animate to get creative and realize ones own ideas, I'd be truly happy.

Follow me :
My interview :
See my interview!
Find my recipes on the following search pages :
BlendItYourWay Magimix Competition