Claire's interview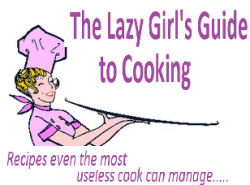 Interview by Stephanie
We interviewed Claire!
Visit the blog: The Lazy Girls Guide to Cooking.
" Don't let fear ruin what could become a love of cooking. "
Hello Claire, so tell us...
When did you begin your blog and what inspired you to start it?
I started the blog in July 2011, as a companion to my opinion blog "The Lazy Girl's Guide to Life". I love recipe blogs but found them very similar. When I met my partner in 2000, I wanted to cook but used to burn holes in pans, and couldn't cook anything without burning it. As for recipe books, I didn't know where to start due to all the posh words I couldn't pronounce. So, after learning to cook with the help of my knowledgeable other half, I wanted to help other young women to cook too, especially with people's incomes being stretched due to the recession, and the drive to be healthier and banish ready meals. It's back to basics, but stripped back to the bare bones.
What kind of people do you write for?
The hapless cook who goes off to paint her nails and ready herself for the dinner party, only to come back to a burnt mess. My blog has step by step instructions, and leaves time to do something else half way through.
If you've seen Bridget Jones, you'll know what I mean: the scene where Bridget cooks for her friends to prove she is a poised adult, but gets completely stuck with the cook book and serves up blue soup, and ends up calling for a take away instead.
Are you involved in the blogging community - how do you attract new readers?
I am very much involved with the blogging community and have been since 2006. I engage with twitter and Facebook lots- I'm naturally noisy so social media means I can keep up with what people are doing without being told off! I tweet, G+ Pin and Facebook my links, but I do find many of my hits for Lazy Cooks come from frazzled parents looking to feed their children healthier, yet simple versions of their favorite foods, and people looking for alternatives to pricey restaurants. It's something for everyone!
What are your goals for this blog? Where would you like to see it in the next year? Five years?
I would love a book deal- the anti cookbook cookbook!
What is your favourite type of cuisine?
Anything, I love food! The only things I don't like are peas and beans. I love Indian cuisine, I love a roast, a Chinese banquet, anything. Even egg on toast as a pick me up!
If you could be a contestant or guest on any cooking show what show would you choose?
I'd love to cook with Jamie Oliver. I love his 15 minute cooking, but I don't think he should make Mums feel bad for giving their children the occasional treat. I'd tell him that on the show!
Are there any chefs that you admire in particular?
Delia Smith- I grew up with her, and have a book of hers. She let us all cheat. She's a legend.
I also like Nick Coffer, of My Daddy Cooks. I followed his blog from the start, and its brilliant to see him now, famous for being a cook!
What is your earliest memory involving food?
Ice Cream sodas at a shop in Leicester with my Nan. It's called Bruccianis Cafe, they make their own ice cream and the cafe hasn't changed since the 1950s. It has had massive department stores grow up alongside it, but it's still there, doing great business.
That or eating haggis and chips in my parent's tent in Leith. Yummy.
Are you or have you ever been a picky eater?
Yep, I was appalling to my parent's as a kid. I had allergies to dairy products too, so they had to go to extra expense to buy me special milk and cheese. Which of course I'd then refuse to eat. I also hated veg, would eat nothing but chips and chicken, and sneered at anything else. Nightmare!
When I was a teen and left home, I wasn't so much picky as inept. I lived on Green Pot Noodles, Fish fingers and toast.
Any last words or message for our readers?
Don't let fear ruin what could become a love of cooking. Once you know the basics, you're all set. Master some basic recipes, like how to cook
mince
, roast a piece of chicken or frying some fish and build up from there. If you like something, it should be easy to do it yourself. If the girl who burnt holes in pots and was on first name terms with the local fire brigade can cook a roast dinner without poisoning anyone, you can too!
Thank you Claire for answering our questions and see you soon!
Published by Stephanie - 07/07/2013

If you are a blogger, a chef, working in the food industry or have a website about food and cooking, and you would like to share with our community, please contact us!
We would be happy to feature you on our site.