5 Ways to Lose Weight with Mason Jars
Google Ads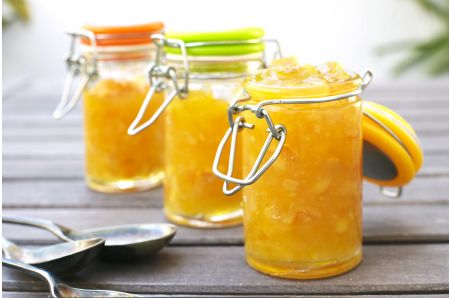 Marry me, Mason jar.
Just when you thought the practical uses of Mason jars could know no bounds, it seems now they are emerging as latest weapon in the fight against the scales.
Since its recent hipsterfication, Mason Jars or sometimes Kilner Jars in the UK, are being used in everything from wedding centerpieces to tea light candles, and now, are emerging as the ultimate dieting tool.
Brits across the blogosphere are joining the food jar bandbagon, posting healthy salads, nutritional smoothies, vegetable soups and scrummy overnight oats.
So just how are these simple glass jars helping us lose those winter pounds ?
Here are the top 5 ways Mason Jars are the perfect weight loss tool:


Portion Control
With the right sized mason jar, filled with fresh ingredients, it's easy to keep your daily calorie intake in check.
Eating the proper amount of food is vital for maintaining a healthy diet, according to health professionals, who often advise us to try downsizing our plates.
With a few measuring cups you can make certain you have your right amount for you everytime, as you layer your mason jar meal.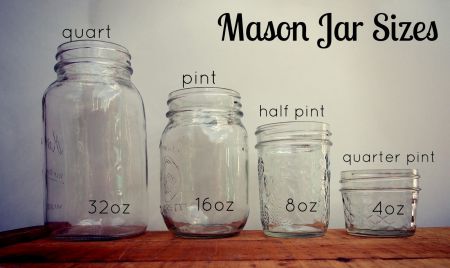 Meal planning
A marketing director spokesman of MasonJars.com says using jars to plan weekly meals has also become a popular trend seen on many blogs and in social media.
"Preparing meals in advance allows you to control portions and make healthier choices," the spokeman says.

"Jars store conveniently in the refrigerator, are easily transported, and stay fresh and flavourful for the week."
A new study by UK diet experts of Forza Supplement shows the majority of us turn to binge-eat after our big weekly shop.
About 64% of 10 Brits say they take to the fridge for a food-bingeing sesh just days after their visiting the store.

Planning your Mason jar meals and neatly stacking your them into the fridge, will give you ready-made meals filled to eat when you're hungry, and not something to pick at when you're food grazing..
Tip: Make a snack mason jar to control your snacking!
Layering
We often know we need more green leafy vegetables and less of those delicious crunchy croutons.
Layering your food allows you to consciously consider how much of each food group you are putting into your meal.
The layering method allows you to create salads ahead of time and store them in your fridge, and if you do it right, they'll last for 3 - 4 days without getting soggy.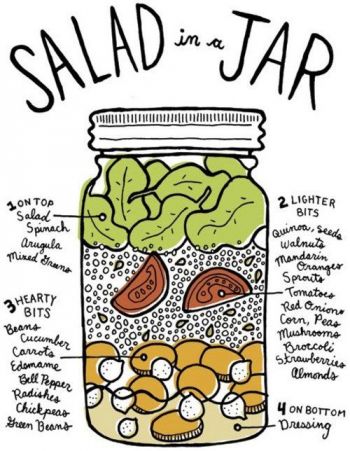 thekitchn.com / via Pinterest



Keep it Fresh Salad Jars
A MasonJars.com spokesman also says they are seeing a rise in those buying the jars to make healthy food choices.
"More customers using them for food preparation, storage, and convenience," he says.
"Smoothies, homemade dressings, on-the-go drinks, cereal and granola - these are just a handful of uses we hear about and experience for ourselves."
But by far the biggest trend is the salad jar.
Chicken Taco Salad, Californian Roll or a Triple Berry nut fruit salad, whatever your taste, you can prepare your favourite salads and store them for the week.
See our recipes here or add your own!
So Good Smoothies
Masonjars.com spokesman says there are many benefits to using Mason Jars as they allow people to make smarter decisions that save time, money and promote healthier choices.

"Another popular use we hear about is using reCAP and jars to make smoothies, juices, and protein shakes. There are ways to use a Mason jar as a blender which makes it the ideal container to mix, flip, and go."

Why not try some smoothie favourites or add your own:
2 large pears, skin on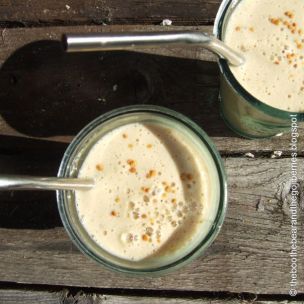 1-2 tbsp of Udo's, Flax or hemp oil

2 cups of kefir

1 tbsp bee pollen

1-2 tbsp raw honey

2 tbsp raw rice protein powder

3 drops of pure ginger extract


Beetroot, Pomegranate & Orange Smoothie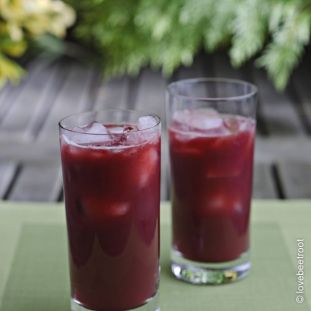 100ml pomegranate juice

100ml orange juice

1 cooked beetroot
(1/4 pack – x recipe by 4 if
you want it to use a whole pack)
Green Monster Smoothie
Liquid (100-150ml)
Fruit (good handful)
Healthy fats
(a good, heaped teaspoon)
i.e peanut or almond butter
Something sweet (teaspoon) -
Honey or a couple of pitted dates
Greens (a handful) i.e. Spinach or kale
Ice (a few cubes)
More articles on the same theme