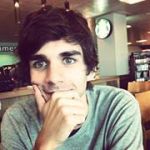 Green Monster Smoothie
Green monster smoothies are becoming more and more popular, and I absolutely love them! Putting greens into a fruit smoothie so you get all the nutrition and don't even taste them is pure genius. You can get really creative too, putting pretty much whatever you want in them. I thought I'd write a post with my formula to apply when making a green smoothie, and you can adapt it any way you like.

So, for me, smoothies work in 6 steps, in terms of what goes into the blender first. This is the order I go by:
Google Ads
Rate this recipe
4.2

/

5

(

30

Votes)
Ingredients
1. Liquid (100-150ml) - you can use water
your favourite fruit juice
or milk. If you have a lactose intolerance or are just feeling particularly healthy
then almond milk
rice milk and soya milk are all great alternatives.
2. Fruit (good handful) - Whenever I have fruit that's so ripe it's starting to discolour
I get it in the freezer before it has a chance to go bad. Got any bananas that are starting to brown? Peel 'em
chop 'em
bag 'em
freeze 'em. Then when you fancy a smoothie
the fruit is there
frozen and ready to go. Use any fruit you like
and play around with different combinations and colours.
3. Healthy fats (a good
heaped teaspoon) - You need good fats in your diet and a smoothie is an awesome way of getting them. You can use peanut butter
almond butter
your favourite mixed nuts and seeds
coconut oil or even olive oil!
4. Something sweet (teaspoon) - Honey or a couple of pitted dates works perfectly. Add spices too! For example
a pinch of cinnamon works a treat with a banana smoothie.
5. Greens (a handful) - This is the clever bit. You can put a handful of leaves such as spinach (my preference) or kale
which are both incredibly good for you
and the sweetness and flavour from the fruit mean that you don't even taste the greens!
6. Ice (a few cubes) - Put these on top of the greens and they will weigh down the ingredients pushing them towards the bottom of the blender.
Details
servings 1
Level of difficulty Easy
Cost Budget Friendly

Preparation
Step 1
Put all of the ingredients into the blender and whizz on high for a couple of minutes.
Step 2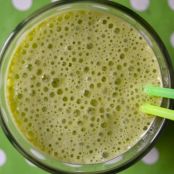 This is a handy starting point for making green smoothies, but as I said earlier, get creative and mess around with the ingredients! If you fancy one for breakfast, why not put a cup of oats into the mix? They make the smoothie creamy, delicious and really filling. I often have a green smoothie after going for a run or to the gym, and just add a scoop of whey protein powder or some low fat yogurt. You can pretty much make whatever smoothie you like. Smoothies like this are so sweet and delicious, and so good for you, that you just feel great drinking them.

​
Like these recipes? Then you'll love