Kat's interview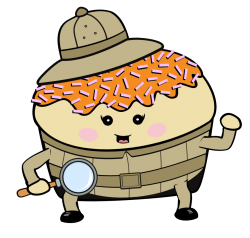 Interview by Laurence
We interviewed Kat!
Visit the blog: The Baking Explorer.
Discover Kat's favourite recipe: Wild blueberry eclairs
My secrect weapon in the kitchen? " A willingness to experiment and not worrying how it turns out! "
Hello Kat, so tell us...
When did you begin your blog and what inspired you to start it?
I started my blog in August 2012, at the same time as The Great British Bake Off series three began. I had decided to challenge myself to make something every week that the show's contestants made and document how it went, and the blog grew from there. You can see how the challenge went in The Great British Bake Off Challenge section of my blog.
If you could go back in time, what is the one piece of advice you would give your younger self as they started out on your blog?
I don't think I would give myself any advice. I've really enjoyed the process of growing my blog and learning things from other bloggers. I'm still learning and enjoying every part of blogging!
What is your favorite dish of all time?
One of my favourite cakes is my Chocolate Guinness Cake with Baileys Buttercream, and savoury wise I love pizza and anything else with cheese.
We love The Baking Explorer and the exploring cupcake on your site, any particular reason you chose the name?
Thank you! I thought for a while about my blog name, I wanted it to be original and unique. I chose it because it represents what I am doing with my blog; going out into the world of baking, learning, experimenting, discovering new things and sharing them with others.
Do you have a secret weapon in the kitchen?
A willingness to experiment and not worrying how it turns out!
What is your earliest memory involving food?
Eating a toffee apple with my dad and watching a bonfire.
Are there any chefs that you admire in particular?
I'm really inspired by The Great British Bake Off contestants, like John Whaite and Edd Kimber. Normal people with a huge passion for food and baking whose dreams have come true! I think it's great.
Which Gourmandize recipe would you recommend? (if none take your fancy add your own and share it with us!)
These Wild Blueberry Eclairs look fabulous, I would love to make (and eat!) them!
http://www.gourmandize.co.uk/recipe-45850-wild-blueberry-eclairs.htm
Any last words or message for our readers?
I hope you like my blog and recipes, and that they inspire you to bake something yummy!
Thank you Kat for answering our questions and see you soon!
Published by Laurence - 05/08/2013

If you are a blogger, a chef, working in the food industry or have a website about food and cooking, and you would like to share with our community, please contact us!
We would be happy to feature you on our site.