Iced Jems's interview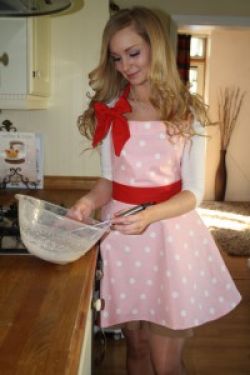 Interview by Laurence
Visit the blog: Iced Jems.
Discover Iced Jems's favourite recipe: Black bean brownies
Hello Iced Jems, so tell us...
When did you begin your blog and what inspired you to start it?
I started my blog about 3 years ago. Even though I had always baked since being a kid, I really got into it after university when I started my first job in IT sales, I think I needed a creative outlet as it wasn't a very creative job. I started taking cakes into work all the time (my colleagues loved it of course) and decided to start documenting my recipes and experiments on a blog!
In your wildest dreams, where is your blog going to take you as it develops?
This is a tough one, I guess my wildest dreams would be the blog leading to a cookbook or even a TV show haha, but that really is wild dreams! For now though, my blog has led to so many exciting things already, from being featured in magazines to me opening my own online bakeware shop!
Are you active in the blogging community? Have you met any interesting people through your blog or has it brought you to new places?
Being part of a community is one of the greatest things about blogging, you 'meet' so many people just like you with the same interests and ideas. I've made some great friendships with other bloggers, it's all starts by just commenting on each other posts or sharing each others work and then you find you end up talking practically everyday. I also love talking to new bloggers looking for advice on how to improve their blog or grow it. I actually met a few of the bloggers (and Facebook Pages) recently too at The Cake & Bake Show - I thought it might be a little awkward like I imagine internet dating to be haha, but I had a wonderful afternoon with them all!
Do you have a secret weapon in the kitchen?
My Wilton Large Star Piping Tip - this is my go to decorating tool when the epic idea I had in my head looks terrible and I need to make a pretty cupcake or cake quickly.
Tell us more about your Iced Jems Shop, there loads of lovely looking kitchenware on there!
I started Iced Jems Shop because as a collection of items that were hard to find online or seemed to expensive elsewhere, I love sourcing unusual boxes, cupcake cases, straws and moulds and being able to give people great value for their money. I love a bargain myself so I just got in items that I would love and would pay for and it has just grown and grown since there!
What is your earliest memory involving food?
When I was little, I made a Powerpuff Girls birthday cake for my friend Sarah! Obviously I was young and a beginner, so for some parts of the cake I had just built up layers of icing for the detail. I remember her telling me that the cake was great but her and her family got to the eyes of the Powerpuff Girl and the icing was about 5 layers thick haha!
Are there any chefs that you admire in particular?
I like Heston Blumenthal for his sheer creativeness, it's really hard to do anything new these days as most recipes are already online 10 times over. I know a lot of people think his ideas are a bit wacky and weird but I like that he tries to make food an experience.
Do you have any easy marketing tips for new bloggers starting out?
Try and give your readers something they really value. For me, I take step by step pictures of each recipe rather than just typing them out. Make sure you are communicating with readers on Facebook, Twitter and Email too, otherwise it's easy for them to forget about you. And submit your blog to fantastic community sites like Gourmandize!
Which Gourmandize recipe would you recommend? (if none take your fancy add your own and share it with us!)
I really like the look of the
Black Bean Brownies
, I've started experimenting with healthy and allergen free alternatives recently, and a gluten free healthier style brownie sounds fantastic!
Any last words or message for our readers?
Thanks for listening to me ramble on and I hope you enjoy my recipes if you take a look at any of them! Thanks Gourmandize for asking to interview me too!
Thank you Iced Jems for answering our questions and see you soon!
Published by Laurence - 27/09/2013

If you are a blogger, a chef, working in the food industry or have a website about food and cooking, and you would like to share with our community, please contact us!
We would be happy to feature you on our site.