Katrina's interview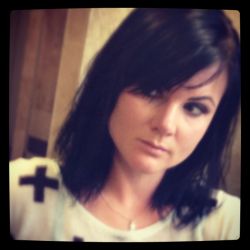 Interview by Laurence
We interviewed Katrina!
Visit the blog: Katrina Coming Clean.
" I would like to see more female chefs in the public eye "
Hello Katrina, so tell us...
When did you begin your blog and what inspired you to start it?
My blog started in May of this year (2013) a good few months after I really made the decision to get healthy and fit.
The main reason I started it is that I wanted to be held accountable for my actions but at the same time it was somewhere for me to be able to share my highs and lows and show that any normal woman including those with dependents could make a change for the better. I guess another reason was being fed up of seeing quick fixes being featured everywhere - they just aren't realistic and make us feel like failures.
If you could go back in time, what is the one piece of advice you would give your younger self as they started out on your blog?
Hmmm, my blog is relatively new and there are still many things I am learning.
I guess the main thing would be take time to research the blog platforms out there and dedicate a little time before planning your blog before making it 'live'.
What is your favorite dish of all time?
That would have to be my Thai Curry. Believe it or not I never used to be a fan of curry's, but Thai one's are just something out of this world.
I make mine using fresh ingredients and probably vary it every time I make it.
Thai Red Curry with Turkey Breast
We see you make a real effort to take great photos, in your opinion what makes a dish beautiful?
The love and enjoyment put into it whilst making - I love my family saying this looks lovely!
Presentation is key - especially when getting kids to eat it!
Can you recall a meal that came out of a packet looking beautiful?
Do you have a secret weapon in the kitchen?
My food processor - it was only a relatively cheap one that I bought whilst going through the weaning phase with my daughters.
It only got used every now and again when I made batches of food for the youngest but more recently it is a regularly used item. Unfortunately it just blew up so I'm on the hunt for a new one that can live up to almost daily use.
What is your earliest memory involving food?
Meal times were hectic when I was younger - I was one of four - so most of our dishes were English favourites such as shepherd's pie etc.
Although I recall a neighbour having a gooseberry bush and my mum making gooseberry crumble, that was probably my first unusual dish aged around 8 or 9 and I loved it!
Are there any chefs that you admire in particular?
I pretty much admire all chefs - they make some amazing meals!
If I had to state favourites it would have to be Heston Blumenthal, some of his dishes I would probably pass on, but what I love is his passion for cooking and experimenting.
I would like to see more female chefs in the public eye though.
Sometimes it can seem hard to make the balance between healthy eating and eating something delicious, what's the best advice you'd have on this?
Healthy eating can be delicious, it just takes time to train your body and your taste buds to realise that. When I first started out I craved sweet stuff so started making cakes such as Chocolate Beetroot or even Protein Bars just so I could have some 'bad' stuff.
Now, we might sit and snack on some spiced cabbage chips or snack on frozen grapes.
I do however have the odd bit of chocolate or treat every now and again - it's just about finding the right balance.
Which Gourmandize recipe would you recommend? (if none take your fancy add your own and share it with us!)
I'm going to have to recommend my Thai Red Curry. I regularly get asked for the recipe so here it is!
Thai Red Curry with Turkey Breast
Any last words or message for our readers?
If you're looking to change your eating habits for the better don't give up after a few failures. Finding what works for you can take time. I've had many failings in the kitchen, it's a learning process... enjoy it!
Another issue can be family members who might not want to change their habits. Luckily mine will pretty much eat what they get given. However, what surprised me was my husband actually wanting to make cabbage chips to snack on one night - I knew I had finally cracked it then (6 months down the line!)
Thank you Katrina for answering our questions and see you soon!
Published by Laurence - 11/08/2013

If you are a blogger, a chef, working in the food industry or have a website about food and cooking, and you would like to share with our community, please contact us!
We would be happy to feature you on our site.