Rob's interview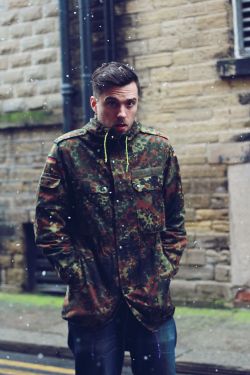 Interview by Stephanie
We interviewed Rob!
Visit the blog: Go Cook yourself.
Discover Rob's favourite recipe: Lemon Cheesecake
"Keep cooking people, food is literally the greatest thing on the planet."
Hello Rob, so tell us...
When did you begin your blog and what inspired you to start it?
Go Cook Yourself has been running for about two and a half years now. It's a joint effort between myself (Rob) and my twin brother Dan. We both work in Social Media but at opposite ends of the globe and Dan suggested that I use my passion for cooking and turn it into a blog. Go Cook Yourself is our way of staying in regular contact. I've always loved cooking. Growing up, if you helped with the food preparation you didn't have to do the washing and drying up afterwards. It was an easy choice.
If you could go back in time, what is the one piece of advice you would give your younger self as they started out on your blog?
I'd probably tell myself to keep up with the exercise. Two years of food blogging can take its toll.
What is your favorite type of cuisine?
Thai. I'm yet to cook any authentic Thai dishes for Go Cook Yourself but it's on the list.
Your photos are great, in your opinion what makes a dish beautiful?
I think a dish becomes 'beautiful' the moment the viewer starts to drool. If I look at a photo and start salivating it's a winner in my book.
Do you have a secret weapon in the kitchen?
Sharp Knives. If your knives aren't sharp everything take longer. Time is important in the kitchen. Sharpen your knives people!
What is your earliest memory involving food?
My first role in the kitchen was to peel the outer layers off the Sprouts at Christmas time. Its still the first job I do each christmas day twentry three years later.
Are there any chefs that you admire in particular?
Jamie Oliver, he kind of led the way for young, in your face, brashy, personality driven cooking television. I'd put myself in that category....perhaps not the young bit.
If you could be a contestant or guest on any cooking show what show would you choose?
I love Sunday Brunch with Tim Lovejoy and Simon Rimmer. If I had to pick one, I think that'd be the coolest one to be on.
Which Gourmandize recipe would you recommend? (if none take your fancy add your own and share it with us!)
Your
Lemon Cheesecake
. Great picture! Muesli as the base....clever
Any last words or message for our readers?
Keep cooking people, food is literally the greatest thing on the planet. oh and if you don't like it...Go Cook Yourself
Thank you Rob for answering our questions and see you soon!
Published by Stephanie - 17/07/2013

If you are a blogger, a chef, working in the food industry or have a website about food and cooking, and you would like to share with our community, please contact us!
We would be happy to feature you on our site.