Helena's Bistro's interview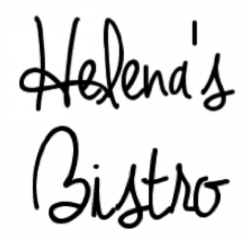 Interview by Laurence
Visit the blog: Helena's Bistro.
Discover Helena's Bistro's favourite recipe: Blackberry Surprises
"I don't think you can go wrong with a traditional roast dinner. Give me a pork roast with all the trimmings (obviously including crackling) and I am a very happy lady."
Hello Helena's Bistro, so tell us...
When did you begin your blog and what inspired you to start it?
I began my blog at the end of June 2013 as a way of pushing myself to try new things in the kitchen. I had recently finished university and was waiting to graduate and find myself a job, and wanted to document everything I attempted whilst I had free reign of the kitchen at home.
I also spent a lot of my final year at university cooking 'proper' meals for myself and found that this was a much cheaper and healthier way of eating, so I wanted to share my recipes with others in the hope of inspiring those who are a bit shy in the kitchen to give cooking a go, as it can be so much easier than we think!
In your wildest dreams, where is your blog going to take you as it develops?
I would absolutely love to work in the retail/food industry as a food buyer and in a perfect world, my blog would get me the experience that I need in this field to get there.
As my blog gets bigger, it would be great to get my name more recognised in the local community, as I would love to be able to spend my time baking and cooking treats for others as a side line business whilst I find my feet in the big smoke!
Are you active in the blogging community? Have you met any interesting people through your blog or has it brought you to new places?
I love discovering new blogs and have recently moved to South West London and have found myself a baking club through my blog that I would not have found otherwise. In this respect my blog has been a bit of a life saver as its kept me busy on lonely nights and has gotten me out of my flat meeting new people at the weekends.
Do you have a secret weapon in the kitchen?
My mini blender. It's perfect for blending up spices, pastes, nuts, fruits, that can be used in nearly every dish I cook. £10 very well spent!
What would be your choice of dish or menu if you had to choose your "last meal ever"?!
I don't think you can go wrong with a traditional roast dinner. Give me a pork roast with all the trimmings (obviously including crackling) and I am a very happy lady.
Pudding would have to be my granny's syrup sponge pudding with a biiig serving of custard. One can never have too much custard with their pud!
What is your earliest memory involving food?
This would have to be the Wednesday night trips my family took to my grandparents house when I was younger for our mid-week roast dinner. I remember me, my sisters and parents all going over there and having a big roast dinner with all the trimmings. My favourite part would come just before we left, when me and my little sister were allowed to take a 'Truly Scrumptious' biscuit from the biscuit jar for our journey back home. Since moving away from home, I haven't been able to find these biscuits, but I'm determined to do so in the next few years!
You say that you started your blog to motivate yourself to try new dishes, what have been your happiest discoveries so far?
The fact I could actually make gnocchi was something I was really pleased with. As a big fan of shop bought gnocchi, I was a bit intimidated at the thought of making it at home and having everything go wrong, but having it go right was a confidence booster for me and I will definitely moving on to pasta very soon, with sun dried tomato fettuccine being the first recipe on my list.
Which Gourmandize recipe would you recommend?
My blackberry surprise is my favourite recipe at the moment. It's something I thought of on a walk home from work as I was blackberry picking and I would recommend anyone try it out, as it's as tasty as it is easy!
Any last words or message for our readers?
Thank you for taking the time to read my interview, now get into the kitchen and try out some of my recipes, found at
www.helenasbistro.wordpress.com
Thank you Helena's Bistro for answering our questions and see you soon!
Published by Laurence - 25/09/2013

If you are a blogger, a chef, working in the food industry or have a website about food and cooking, and you would like to share with our community, please contact us!
We would be happy to feature you on our site.