Articuleat's interview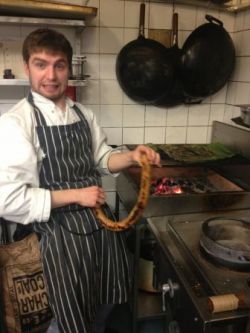 Interview by Laurence
Visit the blog: Articuleat.
"If you ever think that you want to write a food blog - do it."
Hello Articuleat, so tell us...
When did you begin your blog and what inspired you to start it?
I began my first food blog when I was at Kingston University, studying Journalism. Originally it actually started as a joke. None of my flat mates could cook to save their lives, I had already been cheffing (part time) for around 8 years so I saw an opportunity. I asked them "why don't we all chip in a little money each and I will cook us a nice dinner for nothing?" We all chipped in a couple of quid, then before you knew it I was the resident chef, I continued to do this for the next 3 years (my whole degree). Due to this success I thought that I would start a blog so my friends that I didn't live with could do the same. From this I was lucky enough to get asked to write for a range of student publications which really helped me create my own writing style. So 1,092 meals, 3 Christmas dinners and 500,000 hits later I graduated with much more than just a degree, I had a very decorated online portfolio of recipes and food writing. I have now started a new food blog
What were the most important things you learned from your previous foray into the blogosphere?
When I graduated I managed to get my current job (chef at The Begging Bowl, London), as soon as the owner saw my blog, she even told me that she didn't look at my CV. This is the most important thing that I have learned about the blogosphere, it has much more of an influence than you can believe. It can start as a joke, gain a readership, spark a career path and get you a job, never underestimate the potential of having your own little corner of the internet - the sky is the limit.
Are you active in the blogging community? Have you met any interesting people through your blog or has it brought you to new places?
Yes, I have met an extensive range of contacts through my blogs. From magazine editors, to chefs and other food bloggers it is a very friendly community. Everyone involved started the same and they all look out for people who are trying their hardest to break in.
Do you have a secret weapon in the kitchen?
I would like to think that after 12 years in the kitchen I have a few secret weapons. If I have to pick one it will be my sharpening stone. Without a sharp knife, life as a chef would be hard and counter-productive. Everything would take too long and nothing would be chopped finely enough. In order to maintain a sharp knife you need a stone, using a steel can only touch up a knife's sharpness. If you are to constantly have a sharp knife you have to stone it at least once a week (for around 15-20 minutes).
What would be your choice of dish or menu if you had to choose your "last meal ever"?!
I'm a sucker for Italian food, as my parents own an Italian restaurant in Highbury. If I had to pick a last supper it would be
crab
ravioli with sage butter sauce - I'm licking my lips at the thought of it.
What is your earliest memory involving food?
To be honest my earliest kitchen memory is when I landed my first job in a professional kitchen at the age of 12. I was a little luckier than others as my brothers friend Tim Potten was the head chef of a local restaurant in Oxfordshire, where I grew up and he got me a commie chef job. Luckily I skipped the standard washing up job that most chefs started their career with. As soon as I was in the kitchen I new that food was my thing, I found the exciting hustle and bustle of a busy kitchen came naturally for me and I have been in a kitchen in some way, or another ever since.
Are there any chefs that you admire in particular?
There are many chefs I have met along the way and these are the ones I admire. As much as I like and appreciate celebrity chefs, the real heroes are the ones that you don't hear about. The guys that work 80 hours a week in a sweaty kitchen, don't get weekends, don't get time to see their family/friends/girlfriends but keep a positive attitude and cook amazing food as if their life depended on it.
Do you continue to work as a cook professionally?
Yes, I am working at a busy Thai street food restaurant called The Begging Bowl in London at the moment. I have met some amazing people here and also been involved in many pop-up restaurants around London.
Any last words or message for our readers?
If you ever think that you want to write a food blog - do it.
Thank you Articuleat for answering our questions and see you soon!
Published by Laurence - 27/09/2013

If you are a blogger, a chef, working in the food industry or have a website about food and cooking, and you would like to share with our community, please contact us!
We would be happy to feature you on our site.