The Saffron Girl's interview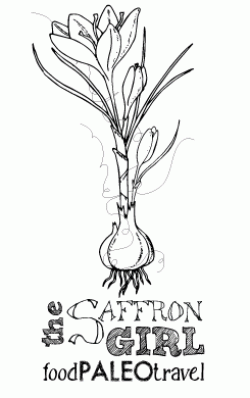 Interview by Jill
Visit the blog: The Saffron Girl.
Discover The Saffron Girl's favourite recipe: Prawn soup with coconut milk
I believe that as bloggers we share more than just recipes and stories, we share our lives with our readers as well.
Hello The Saffron Girl, so tell us...
When did you start your blog?
I started the blog in July 2012 with the following post: http://thesaffrongirl.com/welcome-with-fideua/.
How has travelling to (and living in) so many different places affected your cooking style? What is your favourite cuisine?
I think that travelling and living in different countries makes me somewhat of a cooking chameleon. I don't have a defined style, as I like to explore and try new foods everywhere I go, and then recreate these dishes at home. I go through phases of focusing on different cuisines, usually inspired by my travelling, sometimes a book I read or from a conversation with friends.
Yet, probably the one constant fixation is Moroccan food. I love the contrasts of flavours with the different spices and mixing sweet and sour or sweet and savoury. It's a cuisine that is like a kaleidoscope for the senses; and with my Andalusian heritage intensely influenced by anything Arabic, I think I identify myself more closely to this cuisine over others.
How active are you in the blogging community? Have you met any interesting people through your blog or has it brought you to new places?
I love to interact with other bloggers and not just in the Paleo/Primal community. I have blogging buddies in Australia, China, Europe, and the US. I love learning from them and getting to know them, often times on a more personal level. I believe that as bloggers we share more than just recipes and stories, we share our lives with our readers as well. And the blogging community is a close-knit one, where people are very helpful, kind and supportive.
I have had the privilege of corresponding privately with a number of these bloggers and meeting some of these friends in person, including Ceri Jones, from Natural Kitchen Adventures. Ceri and I explored the London Borough Market together, she acting as my guide! Ceri shares my passion for chestnut flour and we are both Paleo/Primal bloggers. She's a very inspirational person engaging in many social projects, and I'm happy to have her as a blogger friend.
What is your secret weapon in the kitchen?
My secret weapon are my sources of inspiration, which provide the imagination and creativity I need to make dishes I love to eat and worthy of sharing with my readers. This goes beyond kitchen tools and gadgets. Inspiration can come from my travels, a special ingredient, seasonal produce, which invites me to create something new, a conversation with a friend, a book, another blog... the list is endless, but essential for me. If I'm uninspired, I just cannot cook. Cooking is like painting or drawing; if I'm not in the right mood or don't have the right inspiration, then what I create is simply food to survive on rather than a dish to savour and enjoy.
What dish or menu could you not live without?
None and all at the same time, as long as it's healthy, nutrient-dense and a feast for the palate. I don't enjoy dishes that leave me feeling hungry moments later, nor can I enjoy something knowing it will not be nutritional for my body. That's part of the Paleo/Primal mentality that is not instilled in me. ;)
I also love to make my food look pretty on the plate, even if I'm the only person dining.
What is your earliest memory involving food?
Uff.. this is a tough question! I was a very picky eater as a child; in fact, my mother was always worried about me and took me often to the doctor to ensure I was healthy (I always was). My Spanish grandmother would often make me a "reconstituyente" (a vitamin restorative) out of raw egg yolks, beer and honey. It was delicious.
What chefs do you admire most and why?
I'm enamoured with Mimi Thorisson. She's not a trained chef, but a fellow blogger, who is the author of Manger, by Mimi Thorisson. I love reading her enchanting stories and salivate with her delectable recipes and her husband's food photography. Almost every entry of her blog is a feast with multiple delicious dishes, instead of just one. Her recipes, her writing style and her stories are a true inspiration for me and my blog.
There are a number of other bloggers I admire for their creativity in the kitchen: Mandy from Lady & Pups, Nami from Just One Cookbook, and Jenny from the Urban Poser, whose artistic and culinary abilities with Paleo treats are simply amazing... there are many more of course.
And as far as a trained chef goes, I love Karlos Arguiñano. He's a Basque chef, restaurant owner, and popular Spanish TV presenter. He brings gourmet to every day dishes in a way that is easy to understand and recreate at home. I think his influence in Spanish homes is now part of our culinary culture.
How long did it take you to notice the effects of the paleo lifestyle, and how long did it take you to feel comfortable cooking following the new guidelines?
I would say it took about 6 months to really start noticing the effects of the Paleo diet on my body. I'm still struggling with incorporating the entire lifestyle with proper daily exercise and reducing stress levels... but that will come too.
I felt immediately comfortable cooking following the new guidelines, as my kitchen was "almost" Paleo to begin with; the only part that is challenging and with which I still love to experiment is sweet treats. Some desserts are very easy to recreate without wheat flour, sugar, and dairy. However, others can be nearly impossible. One of my greatest achievements, or so I think so, is my Paleo version of the Spanish churro pastry, which I like even better than the original wheat version!
With savoury dishes, I find that Paleo cooking is very easy to accomplish. The most important issue is having the mindset and thinking a little bit out of the box. For example, by substituting a few ingredients such as arrowroot powder, tapioca flour or ground almonds for thickening sauces, eliminating pastas (which I hardly ate prior to Paleo anyway) and replacing them with spiralised vegetables, experimenting with different spices and herbs for enhanced flavours, using fresh and local produce, and using honey as a sweetener, I find that I don't struggle in creating Paleo dishes or meals. Also, keeping things simple is best, especially for the beginner.
Which Gourmandize UK & Ireland recipe would you recommend?
Although this may sound as a diplomatic response, I would recommend them all. A recipe doesn't have to be Paleo for it to be an inspiration, and I think cooking at home should involve some experimentation and creativity. I very rarely follow a recipe 100%, as I like to make my own alterations or additions to it to make it mine. So, taking any recipe which the Gourmandize UK & Ireland contributors share can be the basis for a new dish at home.
I particularly like exotic dishes or desserts which pose a challenge for me. One such exotic dish is 'Prawn Soup with Coconut Milk'. I love the simplicity of it, yet the tropical flavours make it intriguing and something different for any occasion. Another recipe I want to experiment with and make Paleo is Pineapple Coconut Cake (http://www.gourmandize.co.uk/recipe-12810-pineapple-and-coconut-cake.htm).
Any last words or message for our readers?
Yes, I would encourage more home cooking and creating meals from scratch. Knowing how to cook is an essential skill, which we undervalue and of which we underestimate the influence it can have on our lives, including the development of our children.
It's a great way to become and stay healthy (provided we use the right ingredients), save money, make food fun and enjoyable, and even become more social.
Thank you The Saffron Girl for answering our questions and see you soon!
Published by Jill - 05/05/2014

If you are a blogger, a chef, working in the food industry or have a website about food and cooking, and you would like to share with our community, please contact us!
We would be happy to feature you on our site.