SJF Bilton's interview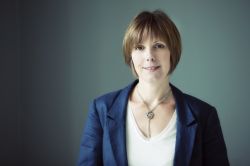 Interview by Laura Packham
Visit the blog: Comfortably Hungry.
Discover SJF Bilton's favourite recipe: Orange and Semolina cake
Hello SJF Bilton, so tell us...
When did you start your blog? What inspired you?
I started my blog in November, 2011. I've always had an interest in food and love writing so thought it would be good to combine the two.
However, food journalism is notoriously hard to break into.
I attended a Guardian Masterclass in Food Writing led by Matthew Fort. His advice was to write regularly, everyday if possible, and suggested everyone should set up a blog. Up until then I had been a bit dismissive of blogs as there are so many.
After setting up the blog I had to concede he was right. It does help focus you mind and provides an excellent platform on which to showcase your skills as a cook (or simply to vent your spleen about particular subjects!).
So my initial inspiration was really to set up a quasi portfolio of my 'work' to attract the attention of editors.
It's paid off. I'm now a Food & Drink Editor for Sussex Style magazine.
What hopes do you have for you blog in the future?
Blogs are great for letting your be yourself. On 'Comfortably Hungry' I can cook the food I like and
explore areas, such as food history, that I am interested in. I'm not on a mission to convert people
to my way of thinking. I just want to continue to share food and food related stories that I, and I
hope my readers, find delicious and interesting.
How active are you in the blogging community? What have you discovered through your blog?
I think it's important to engage with your audience and use Twitter and Facebook to promote my posts. With the latter, I've also joined various online food blogger communities and it's great to see what other bloggers are up to. Some food blogs are truly inspirational.
On the whole, the food blogging fraternity is really friendly and it's a real boost to your ego when you get comments or tweets from talented bloggers (or celeb chefs like Nigel Slater!). It feels equally good to give other bloggers positive feedback.
Having a blog has given me the opportunity to eat at some fantastic and unusual places. Last year, I went to a pop-up restaurant called 'Cafe de Mor't and ate some of the world's most dangerous foods. Definitely a once in a lifetime experience!
What is your secret weapon in the kitchen?
Probably my Kitchen Aid, although given it's size, I would hardly say it's a secret!
What dish or menu could you not live without?
I've got too many favourite dishes to choose from!
What is your earliest memory involving food?
Making Christmas puddings with my grandmother when I was aged five. We were still eating them when I was 16!
What chefs do you admire most and why?
Raymond Blanc because he is self-taught and for the fact that he had the foresight to see that we have some great ingredients in this country that could be used to create outstanding food (even though at the time Britain's culinary status was very low during the 70's and early 80's). Most French chefs would have dismissed us as a lost cause!
If you could be a contestant on any cooking show what show would you choose?
I love the challenges on Masterchef but the contestants raise the bar every year so it must be pretty tough to get on the show.
Which Gourmandize recipe would you recommend?
I love the sound of the 'Orange Semolina Cake from Of Cloves & Capers'. It contains lots of my favourite ingredients - oranges, almonds, yoghurt and cinnamon.
Any last words or message for our readers?
If you are undecided about starting a blog, just go for it!
Thank you SJF Bilton for answering our questions and see you soon!
Published by Laura - 03/03/2014

If you are a blogger, a chef, working in the food industry or have a website about food and cooking, and you would like to share with our community, please contact us!
We would be happy to feature you on our site.