Anyonita's interview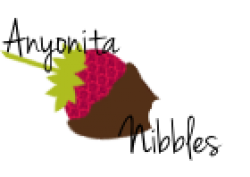 Interview by Stephanie
Visit the blog: Anyonita Nibbles.
Discover Anyonita's favourite recipe: Oreo Overload Brownies
"The two British dishes that I love the most and could eat every day are: a full English and a roast dinner, although I was a bit dubious of Yorkshire puddings when I first encountered them!"
Hello Anyonita, so tell us...
I see you are a very busy woman - a blogger, writer, baker, mother with your own macaron business..! Can you tell us about yourself and where you get all this energy from?
:) I've been an insomniac for most of my life and have always found ways to stay entertained and keep busy when I was restless. Somehow, that's slipped into my days and if I sit still for too long I get antsy! But the thing about what I do, being a stay at home mom, blogger and baker is that it never feels like a chore because I enjoy all three. I think that's the key to keeping busy and still enjoying life--if it's something you love, you don't even realize you're juggling six things!
How long have been blogging and what inspired you to share Anyonita's Nibbles with the world?
I've been blogging on various blogs since about 2003 but on Anyonita Nibbles since 2010. Before I started Anyonita Nibbles, I always made a running joke that I was a bad blogger. I blogged sporadically, a post every six months and would lose interest before any of my blogs really got off the ground. I wanted to force myself to stick with it and see what I could come up with. The fact that I decided to blog about food was helpful, because since I have to eat every day, there will always be something to talk about.
Are you active in the blogging community - American and UK? Have you met any interesting people through your blog or has it brought you to new places?
I try to be as active as my other commitments will allow me. My involvement in the US side of the blogging community tends to be more along the lines of collaborations and link parties and the occasional forum. In the UK, I try to attend as many blogging conference as I can (when they aren't too pricey!).
I have met tons of amazing people and bloggers through blogging--it's such a fantastic opportunity to make new friends! Many of the friends I've met are similar to me: expat foodie bloggers. We connect on so many levels that it's easy to create a bond and have a real friendship with them.
Are there any dishes, foods or cooking habits you found surprising when you first moved over to Britain? Have your cooking habits changed?
Before I moved to the UK my cooking habits were pretty nonexistent! Other than the occasional batch of brownies or muffins, if I went into the kitchen it was after someone else had cooked something for me!
I discovered cooking because I would be homesick for certain foods that I couldn't find here. One thing led to the other, though pretty quickly.
Odd British dishes and food is something I could talk about for hours! To be brief: beans for breakfast and beans on toast. Neither exist in America. The only time we ever have baked beans is alongside a barbecue in summer. The use of bread to make summer puddings is another strange one. Growing up, leftover bread always got saved to be given to ducks and wild geese. We were never so adventurous as to make it into a dessert!
The two British dishes that I love the most and could eat every day are: a full English and a roast dinner, although I was a bit dubious of Yorkshire puddings when I first encountered them!
Do you have a secret weapon in the kitchen?
Equipment: my slow cooker
Ingredient: herbs -- I love to use fresh and dried herbs in dishes; they can really transform a meal
What would be your choice of dish or menu if you had to choose your "last meal ever"?!
Since a 12 course menu would probably led to my death faster than whatever impending I'd be facing, we'll stick with four:
Starter: Spinach artichoke dip with salty tortilla chips
Main: Proper roast dinner with extra roast potatoes and a side of my mom's mac 'n cheese
Dessert 1: Tiramisu
Dessert 2: Carrot cake
What is your earliest memory involving food?
Being on vacation in Tampa Bay, Florida and trying a prosciutto sandwich. I'd never eaten prosciutto and I was blown away by how amazing and complex it tasted!
If you could be a contestant or guest on any cooking show what show would you choose?
Masterchef. Without a doubt.
Which Gourmandize recipe would you recommend?
Oreo Overload Brownies
Thank you Anyonita for answering our questions and see you soon!
Published by Stephanie - 25/09/2013

If you are a blogger, a chef, working in the food industry or have a website about food and cooking, and you would like to share with our community, please contact us!
We would be happy to feature you on our site.