Mummy Expert: Emma's interview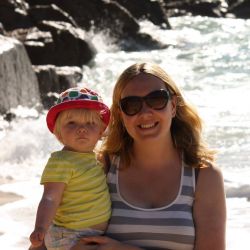 Interview by Laura
Visit the blog: Mellow Mummy.
"Try letting your children grow their own herbs, fruits or vegetables. I can't even begin to tell you how rewarding it is for children to see the fruits of their own labour turned into meals."
Hello Mummy Expert: Emma, so tell us...
When and why did you start Mellow Mummy?
I started Mellow Mummy in November 2009, shortly after my first daughter was born. As a full-time techy, I missed my computer time when I was on maternity leave and wanted a way to express my techy side without the stresses of work. I had been involved in testing products for the annual Mother & Baby awards that Summer and had enjoyed sharing my experiences with all of my Mummy friends so I started my blog as a way of sharing my experiences of products. Over the years, Mellow Mummy has evolved a little so I now blog about new products for mother and baby as well as sharing my own photos and recipes.
Tell us the story behind your blog name, 'Mellow Mummy'
In the few weeks after I first became a Mum, people commented on how relaxed I seemed despite all of the pressures that parenthood introduces. Despite being quite unwell, I appeared to be taking motherhood in my stride and managed to find my own instinctive way of dealing with crying, colic, feeding issues, sleep issues and then on into weaning and walking. Thankfully, my mellow vibes haven't worn off and five years later I still like to think that I'm a little unusual in my approach to motherhood - I prefer to find my own way and follow my own gut instinct rather than worrying about the things people tell me I should be thinking about.
How early is too early to start involving kids in the kitchen?
I'm not sure there is any point when it is too early. Both of my girls joined me in the kitchen from day one, sitting in their rockers watching me and listening to me as I cooked. My eldest daughter started helping me when she was about 18 months old and could confidently stand up on a step at the table. My youngest however, started helping me when she was just able to sit up at about 5 months old; I would sit her in the high chair with a spoon and a bowl with a tiny bit of whichever ingredient I was working with, and watching, how she would imitate me and explore the feelings of the tools and ingredients. Now, at two-years-old, I am just starting to teach her the first knife skills (VERY supervised I might add!) and my eldest, who is now 5, is allowed to help me stir pans on the hob.
What are your top tips for cooking with kids in the kitchen?
Have everything you need ready and prepared before you invite your children into the kitchen. With many kitchen activities it is important not to take your eye off the children so you don't want to have to be rushing off to search in a cupboard for something. Being well prepared also means that the cookery activities will take less time and, certainly with younger children, it is important to ensure that their attention span will last long enough to complete the tasks. I like to choose recipes that have lots of small, very active parts for the children to play. That way, if they do lose interest, there are likely to be more tasks that they can get involved in later on. Baking is great for this because you often need to chill a dough or pastry before working with it and then have to wait for it to cool before decorating.
What dishes would you recommend for fussy eaters?
All children go through fussy eating stages. Even my girls who are pretty adventurous go through patches of refusing to eat more or less everything I put in front of them. Pasta dishes are good way of getting children back into food because you can start quite simple and plain and then over time add in more interesting sauces or vegetables.
When my girls are at their most fussy, I will normally always serve a salad with a meal because I know they will never refuse carrot sticks, cucumber and cherry tomatoes and so I can guarantee that they will at least fill up on veg.
Try serving the same foods that children normally will eat, but in a slightly different manner. My girls will often get into a potato-rut whether they only ever want to eat jacket potatoes! When this happens I try and encourage them out of the potato gloom with a big bowl of new potatoes or a meal served with mash instead.
Given the growing issue of childrenhood obesity, how do you get your children to eat so well?
Getting my children involved in growing herbs, fruit and vegetables has certainly helped to encourage them to eat a wide range of fruit and vegetables. I'm also a big believer that eating with your children (whether at home or in a restaurant) is a good way of setting an example to your kids that they can follow. As passionate foodies ourselves, my husband and I like to think that some of our enthusiasm for great food and drink rubs off on our daughters at mealtimes. Snacks and treats are exactly that in our household... a treat for a special occasion.
What are some of the important rules at your kitchen table and supermarlet when it comes to your kids?
We always eat together. Well OK, not ALWAYS but perhaps only 4 or 5 evening meals a year will I serve the girls something different to us (and that it usually on very special occasions!). Eating together means that we share our day's stories together and it is a very sociable time of day for us. It also means that it makes much more sense for me to cook just one family meal so, ever since they started weaning, both of my girls have always eaten the same meals as us. This means we have, as parents, reduced our own salt (and chilli powder) intake but it is worth it to see the girls enjoying their food.
I don't think I have any supermarket rules (other than don't run off in totally the opposite direction to me...PLEASE). I'd probably panic if the girls decided that they wanted to live off sweets and chocolate but that hasn't happened yet and yes, the occasional doughnut is a treat I'm happy to offer them in return for my own sanity.
What are some of your 'go-to' favourite recipes for kids?
Home-made sausage rolls because they are so easy to make (especially with ready-rolled puff pastry) and involve lots of different kitchen skills, which small children love to get involved in.
Chicken goujons because they are so messy and great fun to make with a family and yet so rewarding.
Mini pizzas make a great weekend meal for us because we can make the dough and the sauce together in the afternoon and then later we can all choose our own toppings.
A simple gingerbread recipe because they taste wonderful with a cup of tea and gingerbread biscuits are brilliant fun to decorate.
Are there any foods you won't let your children eat?
I'm the Mellow Mummy so generally the girls are allowed to try anything they fancy trying. In general, I'd rather that they only ate a food if they can recognise and understand what the ingredients are. For example, I've put off feeding them hot dogs for a very long time because I don't know myself how to explain what some of the ingredients are! We always steer the girls away from particularly salty or sweet foods but as a special treat I'd be happy to let them try most things.
Anything else that you'd like to share with our Mums and Dads?
Cooking with kids doesn't always have to mean baking. Baking is a great way to get children interested in cookery but once you've inspired them, try encouraging your children into the kitchen to cook some more "normal" foods as it really helps them feel like they are making an important contribution to the family meals.
Even if you only have a tiny amount of space on a window ledge, try letting your children grow their own herbs, fruits or vegetables. I can't even begin to tell you how rewarding it is for children to see the fruits of their own labour turned into meals. Growing your own ingredients is a good test of patience for children and helps to teach them about the hard work and origins of their food.
Thank you Mummy Expert: Emma for answering our questions and see you soon!
Published by Laura - 08/07/2014

If you are a blogger, a chef, working in the food industry or have a website about food and cooking, and you would like to share with our community, please contact us!
We would be happy to feature you on our site.