Selma's Table's interview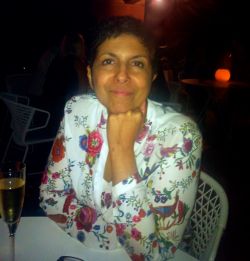 Interview by Laurence
Visit the blog: Selma's Table.
Discover Selma's Table's favourite recipe: Gorgeous Tiny Cheese Muffins
" I have been reading blogs silently for years and it wasn't until I started writing one that I realised how much it means to have people comment on the posts. So now, I comment away and have new blogger friends in Italy, India, the States, Canada and France!"
Hello Selma's Table, so tell us...
When did you begin your blog and what inspired you to start it?
My friends have been at me for years to do something tangible with my love for food other than just feeding them. I actually wrote the "About Me" page 3 years ago but didn't feel confident enough to hit the "publish" button. I didn't think anyone (other than my close friends) would be interested, so it sat forlorn and forgotten on my computer for all that time. It is one of my most popular pages - who knew!? I had a bit of a health scare last year and suddenly realised that I am mortal which was a revelation! At the time my son and I were staying with friends and I was cooking quite a lot but the recipes were scattered all over the place - bookmarks, Pepperplate, various food sites like Food52 and BBC, cook books, magazine pages, scraps of paper, my (numerous) handwritten books and memory too. I have lived on 3 continents as well as travelling a little and have lots of stories that I used to tell my son at bedtime when he was small. He is not so small now, loves his food and will be off to University in a couple of years. So I decided this summer that this would be a good time to start the blog; to document recipes and recount a few memories along the way, as a keepsake for him and the family he will one day have. I had no idea that the blog would receive the amount of attention it has and prove to be so popular outside of my circle of friends...the power of social media is incredible!
In your wildest dreams, where is your blog going to take you as it develops?
Well of course, the ultimate would be a book deal but what I would really, really like to be able to do, is travel to research, cook with and interview great local cooks and write about local food...I love the idea of living in a place for a year or so, gathering local knowledge and writing about it - a la Elizabeth David.
Are you active in the blogging community? Have you met any interesting people through your blog or has it brought you to new places?
I have become "friendly" with a few bloggers as a result of my blog. I have been reading blogs silently for years and it wasn't until I started writing one that I realised how much it means to have people comment on the posts. So now, I comment away and have new blogger friends in Italy, India, the States, Canada and France! I have also made a few local connections which led to my attending a local "tweet up" and meeting some really lovely people in my neighbourhood.
Do you have a secret weapon in the kitchen?
I don't know so much about it being a secret weapon but a sharp knife is something that I cannot do without. If I am going somewhere where I know I will be cooking, I have been known to carry one, wrapped in a tea towel in the bottom of my handbag! Gadget wise, I love my Imperia pasta roller/maker as it is also great for thinly rolling out sliced bread for savoury tart cases and I really couldn't do without a food processor.
You've had such an interesting life so far, living all over the world and with parents of different backgrounds - do you remember eating any typically Kenyan dishes during your time there?
Kenyan food is really varied because of the Arab, Indian, French and Italian influences. Some of the most delicious food comes from the coast which has a very heavy Arab influence - fish and seafood redolent in coconut milk, chillies and spices. Swahili cooking I think it is known as but I could be wrong there. Barbecued meat is also very popular and I remember very well, my father piling us into the car on a Sunday evening and parking on the street outside the "Lobster Pot" where a waiter would run over, take our orders for Nyama Choma (which literally translates as Burnt Meat) and come back 15 minutes later with a tray piled high with spicy chicken, shish kebabs and flatbreads. I used to have a grilled chicken sandwich which I can still taste today!
What is your earliest memory involving food?
I remember choking on a fishbone when I was 3 or 4 years old - my mother was mortified at her lapse in diligence and practically mashed fish up for me for years afterwards! One of my most nostalgic memories is of my grandmother (who used to live with us) making chapatis - she had it down to a fine art - rolling out uniform sizes of the most tender dough, cooking it on a hot tava (griddle), slathering it with ghee in what seemed to be a seamless motion. I used to sit on the back doorstep, watching the chapatis inflate with air when they were ready to be taken off the tava and deflate as she brushed on the ghee. She would sprinkle one or two with sugar and roll them up for me to eat, hot, hot, as I watched. She made them everyday and my mum, who is a formidable cook, would say that no-one else could make them quite like she did.
Are there any chefs that you admire in particular?
So many - Raymond Blanc for his knowledge, incredible passion and good humour; Simon Hopkinson for his pedantic, no-nonsense approach to classics; Jamie Oliver for his commitment, energy and fantastic flexible recipes; Peter Gordon for his extraordinary palate - he is a genius at combining flavours; Giorgio Locatelli...I could go on and on as we are so fortunate to have so many wonderful chefs to learn from. On another note, I was terribly sad to hear that Marcella Hazan passed away recently - her books are how I learned to shop and cook.
If you could be a contestant or guest on any cooking show what show would you choose?
I would love to cook with Raymond Blanc on his next show - that would be absolutely amazing!
Which Gourmandize recipe would you recommend? (if none take your fancy add your own and share it with us!)
This is the link to my recipe for
Gorgeous Tiny Cheese Muffins
which can also be found with a story on my blog here -
http://selmastable.wordpress.com/2013/09/02/gorgeous-tiny-cheese-muffins/
Thank you Selma's Table for answering our questions and see you soon!
Published by Laurence - 03/10/2013

If you are a blogger, a chef, working in the food industry or have a website about food and cooking, and you would like to share with our community, please contact us!
We would be happy to feature you on our site.