The Fresh Fresher's interview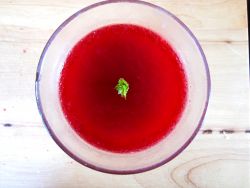 Interview by Laurence
Visit the blog: The Fresh Fresher.
Discover The Fresh Fresher's favourite recipe: Jazzy Smoked Mackerel Salad
Hello The Fresh Fresher, so tell us...
When did you begin your blog and what inspired you to start it?
I began my first blog just over one year ago after my first year of University. I study English Literature and so love to write, but in the course of my first year away from home I'd also discovered my love for food. I had also realised how difficult it is for student to balance the price, convenience and nutritional value of food - trying to achieve the best of all three is no easy task. So when I couldn't find a summer job, beginning a food blog seemed like the natural choice. After learning the ropes, I began The Fresh Fresher.
Your blog has the tag line "The balanced fast-food blog", what do you mean by that?
Fast food has a bad reputation - often when people think of fast food, they think of junk food. In my experience of student life this usually means not cooking for yourself and ordering unhealthy foods instead. Hopefully, my tag line shows that The Fresh Fresher is about real food that is fast, easy and healthier than ready-meals. I am by no means a nutritionist, but I do think that learning to cook and look after yourself (whilst still indulging occassionally) is essential, especially for young people.
In your wildest dreams, where is your blog going to take you as it develops?
I would love to become a full-time food blogger or freelance writer. I really enjoy being my own boss, planning things and seeing them through to the end, which of course is exactly what blogging involves. My blog gives me practise cooking, writing, editing, photography and social media, skills which will hopefully become useful in my career. My childhood dream was always to be an author - who knows? Maybe it could happen!
Do you have a secret weapon in the kitchen?
It isn't exactly a secret, but my favourite ingredient at the moment is smoked sea salt - it adds a different element to everything, and tastes so much better than table salt.
What would be your choice of dish or menu if you had to choose your "last meal ever"?!
I'm not sure about the starter, but for me it's hard to top a smoked salmon and cream cheese bagel. A tangy lemon meringue pie for dessert - it has always been one of my favourites.
What is your earliest memory involving food?
People are usually surprised I can even remember this, but being fed porridge by my Dad when I was very young. I found it so disgusting that I spat it out as soon as he wasn't looking.
Are there any chefs that you admire in particular?
I think Hugh Fearnley-Whittingstall's approach to food is amazing - eating seasonally makes the seasons themselves much more exciting, and I particularly like the way he makes food an occassion. I also love Rose Elliot's vegetarian recipes - some of them are so impressive that I would challenge any carnivore not to drool over them. I'm always amazed at the things other bloggers are cooking, though - there are some really great cooks out there.
If you could be a contestant or guest on any cooking show what show would you choose?
I would love to think I was good enough to take part in the Great British Bake-Off, but seeing how spectacular and intricate the things they make on there are, I wouldn't stand a chance!
Which Gourmandize recipe would you recommend? (if none take your fancy add your own and share it with us!)
The recipe for
Jazzy Smoked Mackerel Salad
is great - easy to make, full of flavour and mackerel is one of the cheaper types of fish you can buy.
Any last words or message for our readers?
You can read more from me at StudentRecipes.com/blog. I should also say thank you to anyone who reads The Fresh Fresher - you guys make my day.
Thank you The Fresh Fresher for answering our questions and see you soon!
Published by Laurence - 01/10/2013

If you are a blogger, a chef, working in the food industry or have a website about food and cooking, and you would like to share with our community, please contact us!
We would be happy to feature you on our site.