Ai Lin's interview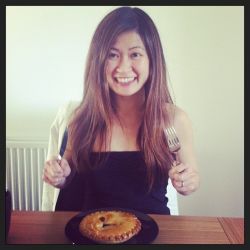 Interview by Laurence
We interviewed Ai Lin!
Visit the blog: Nomsies Kitchen.
Discover Ai Lin's favourite recipe: Crunchy Oven Fried Chicken
Hello Ai Lin, so tell us...
When did you begin your blog and what inspired you to start it?
I started my blog in June this year. I needed a place to compile and share recipes with family and friends, so I thought the best platform to do that was by starting a blog!
In your wildest dreams, where would your blog take you as it develops?
Oh, there are many bloggers out there that I truly admire. If I may say, I would love for it to be a "go-to" site for good recipes or inspiration, if I can achieve that I will be truly happy.
What is your favorite dish of all time?
I must be very candid and say that - comfort food wise - it is KFC! It's not very foodie I know but it is the truth. Fast food aside, I would have to say it's chinese style steamed fish.
Your photos are great, in your opinion what makes a dish beautiful?
Thank you for saying so, because I am still learning and I try very hard! So many components make a dish beautiful, from the ingredients right through to the plating. I guess to photograph food beautifully it is that split second or moment that you have to capture to bring the food to live, that is not an easy thing to do.
Do you have a secret weapon in the kitchen?
I must say modern appliances like a kettle and a good food processor can really save time. Also, supportive family and friends. My poor husband has to eat everything - from my kitchen successes to my kitchen failures, so I must thank him for that.
What is your earliest memory involving food?
It was not so much food but a drink - coffee. I must have been 2 years old at a beach picnic, the adults brought a coffee flask and I would not keep quiet until I got to try some. There is still a photo of that day.
Are there any chefs that you admire in particular?
I love how Raymond Blanc cooks with such passion and how he truly loves and admires each ingredient he uses in his cooking, that respect and understanding of food is incredible!
How well known would you say Malaysian cuisine is in the UK? Tell us about a dish that everyone should try!
From my observation, I must say it's certainly not as well known as Thai cuisine, but its slowly getting more popular. For a start everyone should try our de facto national dish - Nasi Lemak! It's coconut rice served with spicy chilli paste and condiments such as anchovies, peanuts, boiled egg and cucumber. The smell will transport you to heaven, I am not kidding.
Which Gourmandize recipe would you recommend? (if none take your fancy add your own and share it with us!)
Of course I have to recommend my own! I am sharing a recipe for
Crunchy Oven Fried Chicken
, it is so crunchy you won't even realise its not fried. No mess, no fuss!
Any last words or message for our readers?
Always cook with a happy heart! And yes come visit my blog!
Thank you Ai Lin for answering our questions and see you soon!
Published by Laurence - 22/08/2013

If you are a blogger, a chef, working in the food industry or have a website about food and cooking, and you would like to share with our community, please contact us!
We would be happy to feature you on our site.