Sweet Petite's interview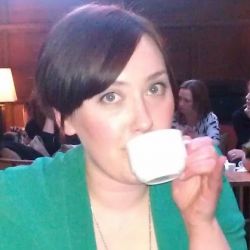 Interview by Laurence
Visit the blog: Sweet Petite.
Discover Sweet Petite's favourite recipe: Bourbon biscuits
Hello Sweet Petite, so tell us...
When did you begin your blog and what inspired you to start it?
I started in May 2012 as kind of a diary for myself while I was setting up my cupcake and biscuit business, getting to grips with tax, food hygiene etc. Along the way, and being influenced by reading loads of other inspiring blogs I started seeing biscuit and cupcake designs everywhere! Greetings cards, on fabric or watching TV (which I do a lot of!) and thinking to myself 'that would be an awesome biscuit' or 'ooh cupcakes with this topper would be fab'! So my little journal has morphed into all the ideas that pop into my head really!
In your wildest dreams, where is your blog going to take you as it develops?
Would love to be guest speaker/demonstrator somewhere like the cake and bake show or cookie con in the US! In reality I would be horrendously bad with nerves but, hey, in my wildest dreams I'd be awesome ;)
Tell us more about your Sweet Petite business, how did you start out?
I got interested in sugarcraft when I was arranging my wedding in 2010. As we were doing everything on the cheap I stupidly thought I could make my own wedding cake as well as do everything else! When I realised that it wasn't going to happen, I decided to make the flowers for the top and joined a local sugarcraft class and just loved it! After making things for family and friends, I decided I'd like to try and make a go of selling my creations. As I don't really have the space for large cakes, I decided just to make dinky treats hence the name Sweet Petite!
Do you have a secret weapon in the kitchen?
Cheesy rock music on the radio....very loud, it keeps me going!
What would be your choice of dish or menu if you had to choose your "last meal ever"?!
I went to Florence last year and had a truffle pizza! I literally have never tasted anything so fantastic so that would definitely have to be on the menu. Pecan pie for dessert :)
What is your earliest memory involving food?
Not eating my greens and getting told off! I was a very picky kid!
Are there any chefs that you admire in particular?
Nigella, James Martin, Lorraine Pascale
If you could be a contestant or guest on any cooking show what show would you choose?
I would love to be a pretendy friend at a Nigella dinner party ;)
Which Gourmandize recipe would you recommend? (if none take your fancy add your own and share it with us!)
It has to be a biscuit one! Bourbon biscuits by
Cazj80
, I love Bourbon biscuits, they are another childhood food memory :)
Thank you Sweet Petite for answering our questions and see you soon!
Published by Laurence - 14/10/2013

If you are a blogger, a chef, working in the food industry or have a website about food and cooking, and you would like to share with our community, please contact us!
We would be happy to feature you on our site.