Louise C's interview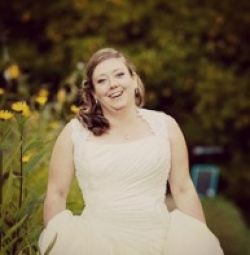 Interview by Laurence
Visit the blog: Crumbs and Corkscrews.
Hello Louise C, so tell us...
When did you begin your blog and what inspired you to start it?
About five years ago my Mum brought me my beloved Magimix, and I decided to start a blog called Happy Food about the goings on in my kitchen. Although I'd baked since I was little with my Granny, Happy Food was the start of my real cake adventures and I started to chronicle the ups and downs of making my Brother's wedding cake.
The blog took off! The wedding cake was a hit! In fact, it went down so well, that when I was made redundant 6 months later, I launched my own home cupcake business, Cirencester Cupcakes, and then another 6 months later I opened my own cupcake shop.
Life got a little hectic and Happy Food just podded along for three years whilst I made 1000s of cupcakes and cakes. Then life changed again, I got married, the lease ended on my shop, and my bespoke cakes were more in demand than ever. I decided to relocate back to work from home and focus on the bespoke side of my business, and with that there was a little (not much, but a little) more time on my hands, and the blog was reborn.
Feeling a little more grown up and a little more worldly-wise Happy Food was reborn as Crumbs and Corkscrews!!
In your wildest dreams, where will your blog takes you as it develops?
In my wildest, wildest dreams, Crumbs and Corkscrews would take me "around the world in 80 meals", to be able to eat in some of the world's best restaurants - El Celler can Roca, The French Laundry, Attica, Quay (not just for the food but that view of Sydney harbour!)....
In reality, I'd love to keep developing the blog and my photography; really polishing everything and pushing myself. I'd also love to have a segment on starting and running your own business from home. I get lots of emails and messages asking about how I started and built everything up from scratch, and would love to inspire (possibly?!) others to do the same. It's the best feeling, knowing that all the hard work is worth it.
What is your favourite dish of all time?
Crikey, where to start?
There are so many different meals and dishes, not just because of the food but of the memories that they bring back. There are particular dishes that remind me of my Dad, who died 11 years ago, in particular roasted kid from La Venta in San Lluis, Menorca, where my parents lived for sometime. And then there's homemade jam tart with blackcurrant jam that my Granny made every week when we were little.
If I had to pick my last meal, it would have to be the Oban scallops with pork belly and cumin caramel, by Jon Howe at Lumiere, followed by Jon's signature palette cleanser Tequila Slammer. Topped off by flambéed Madagascan jumbo prawns in cognac, green peppercorns and cream from the Island Barbeque restaurant on Kurmathi Island, in the Maldives, where we honeymooned. Definitely one meal you won't forget in a hurry; stunning!
Sorry, I couldn't pick just one!
We really enjoy your photos, in your opinion what makes a dish beautiful?
Thank you!
All the photos I take are shot with a Canon EOS 400D. I brought my husband for his 30th birthday, and I often babysit it for him! When the Canon is not to hand, usually when I am out and about, I will grab quick shots with my iPhone 4. Natural light is a must.
For me, I think the key is making the food the star; it should fresh, colourful, and shown off in a way that makes it appetising. Most of the recipes I pin on my Pinterest boards have photos that are striking and make my mouth water. I also like simple presentation, although I'm trying to style my photos a little more. I attended a workshop on styling which inspired me to be more creative with my photography.
Do you have a secret weapon in the kitchen?
Blimey... Ermmm!
I have so many of them, and none of them are really secret. I'm a real sucker for a gadget and at the moment, I'm yearning for an ice cream maker. My beloved Magimix is my "weapon of choice" for making the ultimate, perfectly smooth and creamy buttercream.
What is your earliest memory involving food?
I'm not sure my memory can stretch that far back, but....
From an early age, baking has been a huge part of my life! I grew up with my Granny Violet living with us, and there was never a shortage of freshly baked cakes and biscuits in the cupboards. I can remember vividly my Brother and I baking with her following a Victoria sponge recipe that had been written on a scrap of paper and tucked inside a cookbook. I remember arguing over who got to scrape out the leftover cake mix, out of the mixing bowl.
Every day we'd comes home from school to the smell of freshly baked pies or jam tarts, and a summer fete and christmas fair times at school, hundreds of scones or mince pies would line the kitchen work surfaces.
It's no wonder that I caught the food bug that evolved into a lifelong passion with baking and being in the kitchen. In fact, there's no where that I can think of, where I do not feel as close to her than when I'm stood mixing bowl and spoon in hand.
Are there any chefs that you admire in particular?
Whilst I like the "rustic" style of the food from chefs like Jamie Oliver and Hugh Fearnley-Whittingstall, the chefs that I truly admire are those that turn food into masterpieces on a plate; not just in taste but presentation and amazing experiences. Food for me is about the whole package.
They may not all have a television series (yet) under their belts but these chaps constantly inspire me in the kitchen...
Jon Howe (Lumiere, Cheltenham), Nathan Outlaw (Restaurant Nathan Outlaw, Rock), Richard Davies (The Manor House, Castle Combe), Paul Ainsworth (Number 6, Padstow), Heston Blumenthal (The Fat Duck, Bray) and the Daddy of all Chefs.... Monsieur Raymond Blanc!
If you could be a contestant or guest on any cooking show what show would you choose?
As a Baker, I suppose I should say 'The Great British Bake-off' but I think a good cake can't be rushed, especially when it comes to decoration. Also my bread skills are little to be desired, and I'm not sure I'd be good under all the pressure.
I'd really love to be on the tasting panel for Great British Menu, having the opportunity to taste amazing, creative and inventive dishes by some of the country's best chefs. But also being around the table with the fabulous Prue, Oliver and Matthew would be a little dream come true!
Is there anything you miss about having your own cake shop?
It's difficult to narrow one thing down, however I really miss the community that I was part of. My cake shop was in a little, pretty shopping courtyard in the centre of Cirencester, and all the shop owners became really great friends.
I also miss my clients, I met so many different people over the years and created them some amazing cakes. I'm lucky that some of my regular customers have become really close friends and I still see them regularly. A lot of my old clients have also moved with me, so we get chance to catch up when the next birthday comes around.
However, working back from home, does give me a little more time to spend with my family. My nephew was born whilst I had the shop and I didn't always get chance to see him, as the shop was always open. Now I can make a play-date to visit him, my Brother and Sister-in-law, and not have to worry about closing the shop for a day.
There are good and the sad bits about not having the shop anymore, but I wouldn't be where I am today if I hadn't of taken the plunge and had an amazing family supporting me every step of the way.
Any last words or message for our readers?
Don't be afraid to share the experiments that don't always go to plan. I recently have 5 cakes fail on me, that I shared on Twitter; I had a number of private messages saying 'phew at least I'm not the only one'.
Most importantly, have fun!
Thank you Louise C for answering our questions and see you soon!
Published by Laurence - 28/08/2013

If you are a blogger, a chef, working in the food industry or have a website about food and cooking, and you would like to share with our community, please contact us!
We would be happy to feature you on our site.