Katie's interview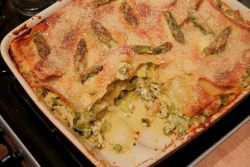 Interview by Stephanie
We interviewed Katie!
Visit the blog: Katie Loves Cooking.
Discover Katie's favourite recipe: Caramelised clafoutis with flambéed cherries
" I am a full-time mum and the blog has been such a nice little getaway."
Hello Katie, so tell us...
When did you begin your blog and what inspired you to start it?
My blog has been going for exactly a year now! I have always loved cooking and spent a nerdy amount of time planning my shopping list every week. I noticed that people were asking my advice about what to do with their excess carrots etc, so thought, why don't I start a blog. I am a full-time mum and the blog has been such a nice little getaway.
If you could go back in time, what is the one piece of advice you would give your younger self as they started out on your blog?
Look at and comment on other food blogs regularly so you can notice what works well about their blog and build up links in the blogging world.
What is your favorite dish of all time?
Can I have two? I love this feta and green veg summer lasagne - http://katielovescooking.wordpress.com/2013/06/15/my-feta-and-green-veg-summer-lasagne/ and easy peasy pecan pie http://katielovescooking.wordpress.com/2012/10/18/easy-peasy-pecan-pie-15-mins-prep30-mins-cooking/
Your photos are great, in your opinion what makes a dish beautiful?
Thank you! That is down to my boyfriend, who loves photography. I think contrast in colour is important, being varied in the set up of the photos, and having the right light makes a huge difference. When I look at other blogs the quality of the photos makes a big difference.
Do you have a secret weapon in the kitchen?
Using anchovies as seasoning. Soy sauce in tomato sauce. Equipment wise, silicone spoons.
What is your earliest memory involving food?
Being on holiday in France and dipping local asparagus into a big bowl of melted cheese. I have never forgotten it!
Are there any chefs that you admire in particular?
You can't beat Jamie Oliver for creating lovingly simple and delicious dishes and making food accessible. I also met Gennaro Contaldo at the launch of our local Appetite festival in Walthamstow and he was just as lovely as on the brilliant Two Greedy Italians TV show.
If you could be a contestant or guest on any cooking show what show would you choose?
I would absolutely love to have joined Emma Grazette and Stevie Parnell on their Spice Trip series.
Which Gourmandize recipe would you recommend? (if none take your fancy add your own and share it with us!)
Your caramelised cherry clafoutis recipe looks great.
Any last words or message for our readers?
Push yourself by trying new dishes! And if you are thinking of starting a blog, go for it : )
Thank you Katie for answering our questions and see you soon!
Published by Stephanie - 21/07/2013

If you are a blogger, a chef, working in the food industry or have a website about food and cooking, and you would like to share with our community, please contact us!
We would be happy to feature you on our site.