All About Herbs
Google Ads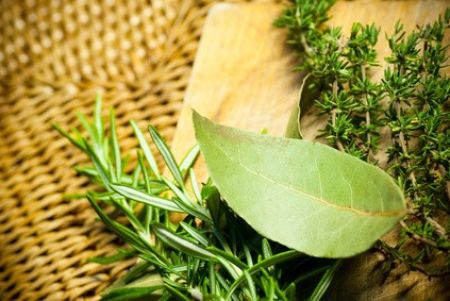 'Parsley, Sage, Rosemary, and Thyme' - Simon & Garfunkel
Herbs are any plants used for food or flavouring that refers to the leafy green parts of a plant (fresh or dried), or from a spice (seeds, berries, roots).
Cooking with herbs is distinguished from cooking with vegetables in that herbs are used in smaller quantities and as a flavouring, rather than as substantial foods.
Herbs can be used in many different ways and are not solely used for culinary purposes, they are also mainly used for aromatic, ornamental and medicinal purposes.

The culinary use of herbs is popular for flavouring purposes, because of their powerful flavours they are used in small quantities, with some of the most popular herbs being: parsley, sage, chives, mint and basil.

When cooking with them, make sure you're aware when they're in season. If you grow or buy herbs know that:

- Annual herbs bloom one season only and then die (unless dried after purchase) like basil, coriander and dill.

- Biennial herbs live for two seasons, baring in mind they only bloom the second season like parsley.

- Perennial herbs, once planted, bloom over winter like chives, fennel, tarragon and mint.
| | |
| --- | --- |
| Basil: the base of a classic pesto, is ideal with tomato, cheese, fish and poultry. Equally as delicious raw as it is cooked on top of pasta dishes. Pick the whole leaf off the plant to allow proper regrowth. Make sure to match with tomatoes for best results! | |
| Chives: replace onion in cold salads, omelettes and cream cheeses. Chives grow very quickly over spring and summer, cut them very close to their base to make the most of this frgrant herb! | |
| Coriander: use it to season exotic dishes (couscous, stir-fry, curry) at the last minute. | |
| Tarragon: flavours sauces, vinaigrettes, white meat and fish. Its' leaves are the basic ingredients for bearnaise sauce. | |
| Mint: brings together desserts, sauces and exotic dishes. Different mint varieties give off different flavours, so use accordingly! | |
| Parsley: an element in your classic bouquet garni, can be used in various dishes. Use its stalk as seasoning, use its leaves raw to top salads and soups! High in Vitamins A, C and Iron. Choose the thickest and greenest of leaves, make sure to cut the leaf right off so old leaves don't prevent regrowth. | |
| Rosemary: use its strong flavour to accompany grilled meats and roasts. It can also be used in sweet concoctions. Get some secateurs to trim rosemary to cut the herb into bunches to hang up and dry. Other wise, pinch the leaves off of the stem. | |
| Thyme: another essential herb in the bouquet garni, is used in alot of cooking. Other types, like lemon thyme, add extra flavour but don't suit cooking. | |
How to pick them
A lot of herbs used in cooking allow you to pick and cut them, then grow back so you can do so again, so don't worry about over-picking! Make sure to pick the leaves early enough, before the plant runs to seed, and you'll get even thicker, tastier herbs the next time around! (See individual herbs above for picking instructions)
How to cook with them
Cooking with herbs is distinguished from cooking with vegetables in that herbs are used in smaller quantities and as a flavouring, rather than as substantial foods.
There are two main ways to use herbs in your cooking, cooked and raw.
Enjoy them raw in salads or minced as toppings or incorporate them into recipes as additional flavouring!
How to store them
- Buy them fresh and use them as soon as possible or the leaves will wither, and the flavour will disappear. Buy them in pots at your local supermarkets, make sure to water them enough so they don't die prematurely.

- Dried, they can be used as substitutes for fresh herbs. Most last a long time, the maximum time being a year (ideally), or they will start losing their taste. Keep dried herbs in a dry area of your kitchen, away from humidity and heat.

- Frozen herbs need to be washed, dried and put into a plastic sealable bag, keep in your freezer until you use them.
More articles on the same theme