How Hannah Does It's interview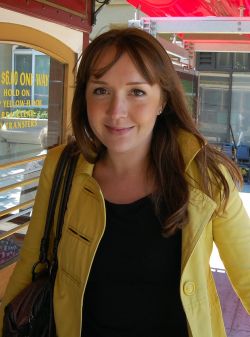 Interview by Laurence
Visit the blog: How Hannah Does It.
" I guess I'd like to become an INFLUENCER in both food and frugal fashion."
Hello How Hannah Does It, so tell us...
When did you begin your blog and what inspired you to start it?
I started in May 2013. As a PR, I'd noticed the impact that bloggers were having on the industry - they are as important, if not more important, than the mainstream media now. Also, to be a blogger, you don't need a cv full of journalism experience, you're not restricted to writing about what your editor wishes you to focus on - a blog is something entirely personal to you and you are in control.
In your wildest dreams, where is your blog going to take you as it develops?
So far, I've been taken aback by the level of engagement I'm getting from followers. It's so lovely to receive some kind words and views from people I don't know. So, looking forward, I'd hope this would grow with each post encouraging hundreds of comments, likes and shares. I guess I'd like to become an INFLUENCER in both food and frugal fashion.
Also, I'd like to start welcoming advertising on my blog - hey, a girl needs money for her passions, you know!
On your about page, you talk about your drive to make your money go further and enjoy the good things in life - what's the main piece of advice you could give on this?
Don't be a victim of impulse. The fancy food ranges in supermarkets may be tempting but you can make much better food yourself with cheaper ingredients, patience and time. The end result will not only taste nice and save you money but will also give you another recipe to keep under your belt to impress others in the future. Time and patience can be key for saving money in many ways. Going out for dinner? Take some time to find a restaurant with a money saving deal. Don't have time during the week to cook? Plan ahead, shop for a full week's worth of meals and use your freezer. On my blog, I have a number of recipes for using bolognese. You make one big batch, put it into lots of little bags for freezing and then add potatoes, pasta or rice whenever you need a quick meal.
Do you have a secret weapon in the kitchen?
Can I have three please? The first is frozen peas. I add them to EVERYTHING. They not only sweeten a meal but they also give you the all important veg that is easy to forget about when cooking.
The second has to be salt and pepper. They are crucial seasonings which, when added to the cooking process, really bring out the flavours of the foods you are cooking. If used after, you've not tasted your food during the cooking process and as a result your dish is a little too bland!
The third is my kitchen knife sharpener. Chopping veg etc should be so easy if your knives are sharp enough. It's all very well buying expensive knives but they will go blunt over time and a knife sharpener will keep them in good working order.
What would be your choice of dish or menu if you had to choose your "last meal ever"?!
My last meal ever would have several courses.
I'd start with a salad of mozzarella, sun blushed tomatoes and parma ham, then lasagne for main and then for pud, I think it has to be apple crumble with custard.
Yum!
What is your earliest memory involving food?
When I was four, I used to 'help' mum in the kitchen. I remember her making chocolate puddings for a family party and I used my finger to smooth the tops of each one. I think I ate half of each pudding in the process and the rest of it was on my face!
Are there any chefs that you admire in particular?
I like Nigel Slater's food. It's comforting and simple and he uses a small number of ingredients that can be used in multiple dishes thereby saving money!
If you could be a contestant or guest on any cooking show what show would you choose?
I'd like to be on Saturday Morning kitchen but I'd prefer to have my own show. Something like Lorraine Pascal's show where I present to camera in a lovely big kitchen.
Which Gourmandize recipe would you recommend? (if none take your fancy add your own and share it with us!)
I would have to recommend my
lasagne recipe
. Oooh and my
shortbread
!
Any last words or message for our readers?
Nobody is perfect in the kitchen. I enjoy cooking but there are certain dishes that I really struggle with so I just don't make them! If anything is too complicated, it will put you off, so keep it simple!
Thank you How Hannah Does It for answering our questions and see you soon!
Published by Laurence - 07/10/2013

If you are a blogger, a chef, working in the food industry or have a website about food and cooking, and you would like to share with our community, please contact us!
We would be happy to feature you on our site.